Liveaboard diving in Indonesia is a great way to explore the beautiful underwater world found in this country.
Indonesia is, without a doubt, one of the very best places on the entire planet to join a liveaboard safari if you are looking for exciting scuba dives featuring pristine underwater scenes, wrecks, caverns, and a large variety of thriving marine species.
Liveaboard or Landbased scuba diving?
There is more marine diversity throughout the thousands of islands that are a part of Indonesia than any other place in the world, making this one of the most sought-after liveaboard destination for divers of all experience levels.
[rushkult_cards]
Bali, Lombok, Komodo, and the Gili Islands are just a select few of the many, many unforgettable dive sites found in Indonesia.
And even though there are plenty of daytime and nighttime dives to choose from, one of the most fun ways to really get away from it all and experience what this unique place has to offer is by taking a trip on one of the many liveaboards available.
But how can you narrow down your many choices to the right ones for you? Simply continue reading because below is a list of some of the best liveaboard diving destinations found in Indonesia.
Liveaboard Diving in Komodo, Indonesia
The greatest way to explore Komodo National Park, one of the premier diving sites in all of Indonesia, is by partaking in a liveaboard trip.
In this way, you will have more than enough time to explore the various sites throughout the park while taking in the scenery that surrounds you at this World Heritage Site.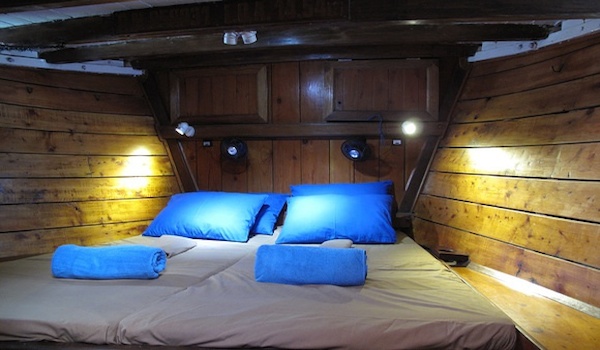 Here, you can come into contact with everything from marine mammals and marine reptiles to thousands of different colorful tropical fish species, hundreds of coral species, mollusks, marine worms, sponges, and so much more.
You may also have the opportunity to encounter reef sharks, seahorses, rays, and squid, among many other unique and exceptional creatures.
The best Komodo liveaboards will also tie in some land excursions to give you the opportunity to see the Komodo dragons that live on the island as well.
Popular dive sites that you will probably get to experience on a great liveaboard in Komodo include
Manta Alley
Yellow Wall
Cannibal Rock
Torpedo Alley, to name just a few.
Liveaboard Diving in the Banda Sea
The Banda Sea is full of many remote islands that have a lot to offer the most adventurous scuba divers, but the only way to access these locations is by getting on a liveaboard.
The right dive crew will be able to take you to the best spots for everything from muck diving to exploring underwater coral gardens, pinnacles, walls, and more, where you can see creatures that you have never seen before in any other parts of the world.
One of the popular dive spots that you can access through a liveaboard in the Banda Sea is Waigeo, where manta rays are usually seen cleaning themselves and relaxing. The corals found throughout the Fiabacet Islands are also a sight to behold, so be sure to bring along your underwater camera.
Other popular diving destinations throughout the Banda Sea include Banda Neira, Pula Nusa Laut, Banda, and Adunara Island.
The right liveaboard diving crew will be able to take you to as many destinations as possible during your stay on the boat so that you can see as much as possible before heading home.
Liveaboard Diving in Raja Ampat
Raja Ampat is one of the most popular liveaboard diving destinations in Indonesia, thanks to its diverse marine life that is just waiting to be photographed beneath the surface of the pristine water.
This marine sanctuary allows you to experience everything from muck dives to drift dives, and you will be able to see things here that you cannot see anywhere else, including clear water mangroves.
Photo Credit: lakshmioct01
In addition to gloriously colorful coral reefs, filled with everything from sea fans to hard and soft corals of all kinds, you can expect to encounter a vast array of marine life throughout the diverse dive sites of Raja Ampat.
These include epaulette sharks, manta rays, and wobbegong sharks. And fish species are more abundant in this part of the world than in most other dive sites on the planet.
You will get up close and personal with large pelagic species as well as the tiniest seahorses and everything in between, so, again, do not forget to bring along your underwater camera to capture these memorable moments.
Several unforgettable dive sites throughout Raja Ampat are perfect for all levels of divers.
These include:
Misool
Airborek Island
Sardine
Cape Kri, to name just a few.
Have you ever been on a liveaboard dive safari in Indonesia?
Let us know in the comments below.
Would you like to liveaboard diving Indonesia? Feel free to contact us. We have multiple partners that offer liveaboard dive packages in Indonesia
Enjoyed this blogpost? Sign up for our free newsletter! and get our scuba blogs delivered in your inbox each month.
Feel free to check out our Scuba Dive partners on the map below for packages, training or guided trips: [rushkult_map]
This article is published by The Scuba Page, the online magazine for Scuba Dive lovers around the world. The Scuba Page is part of RUSHKULT : the online booking platform for adventure sports. Visit the RUSHKULT platform to book your next Scuba Dive training, guided trip and accommodation.