Witness 11-bucket list animals while diving in Galapagos
All adventure lovers gather because Galapagos is a dream come true. If you ever wanted to experience the beauty of the underwater world, or just casually hang out with sharks in Galapagos, this is the place to be.
This amazing island also called 'A living museum of evolution' served Charles Darwin as the inspiration for his theory of evolution. Thanks to Mother Nature, you'll be able to discover a rich marine life Galapagos that will leave you breathless. Bring your camera because the scuba diving in Galapagos was never so appealing!
Here are 11-bucket list animals ready to be found in this piece of paradise.
1) Marine Iguana's

The chameleon among marine life Galapagos is definitely this amazing scale clad reptile. Not very agile on land, but one of the greatest swimmers, Marine Iguana, is the only lizard in the world who can forage at sea. How cool is that?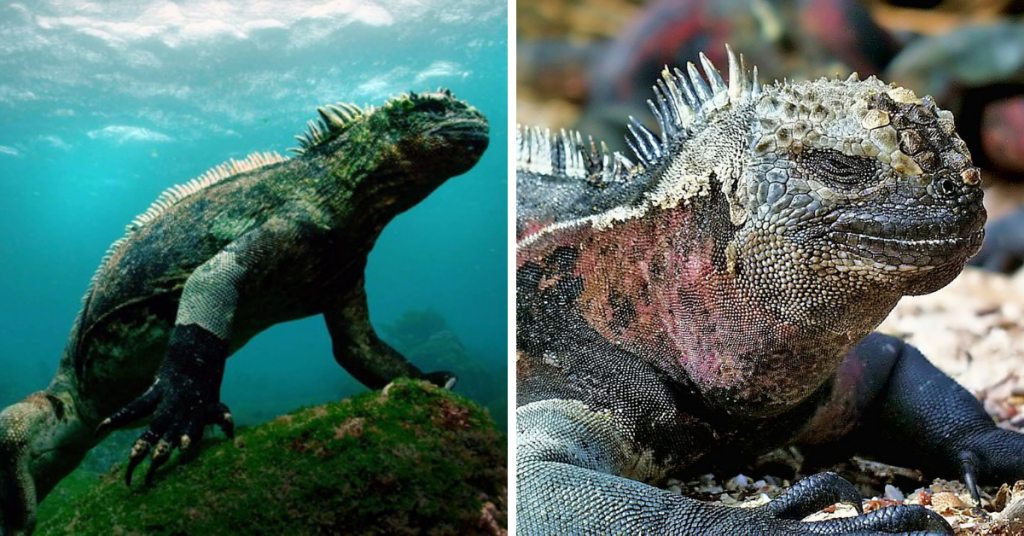 If this didn't convince you to admire them, just imagine all those beautiful colors this iguana can provide. When it's time for a mating call, iguanas turn red and black on Santa Cruz. If you find yourself in Fernandina, they will be pinky-red or dull green. Brilliant bright green and red iguanas are searching for their partners in Espanola and Floreana.
Have in mind that there are 6 subspecies of this unique lizard, each one living on different islands, so it will be hard not to miss them.
2) Hammerhead Sharks
Diving with the Hammerhead Sharks in Galapagos is one of those unique experiences you must try. Thousands of these funny-looking sharks migrate to the islands north of Archipelago, trying to find their meal. Usually, you can spot them near the edge of the continental shelf, which means they can dive as deep as 1000 feet and return shallow to eat. What a show!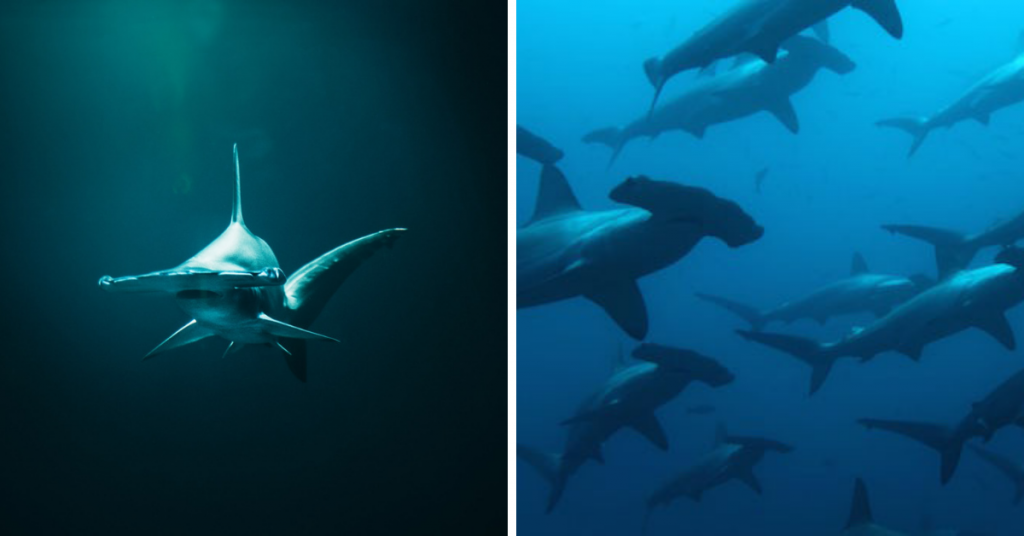 Floating through the ocean, they will remind you of slow-moving clouds. Casting the shadow of a dive site, these gentle giants are creating a solar eclipse in the ocean. It will give you a feeling as if you're in your own movie!
3) Golden Manta Rays
Have you ever wanted to have one of those Instagrammable photos with ocean Rays? If so, this is your chance!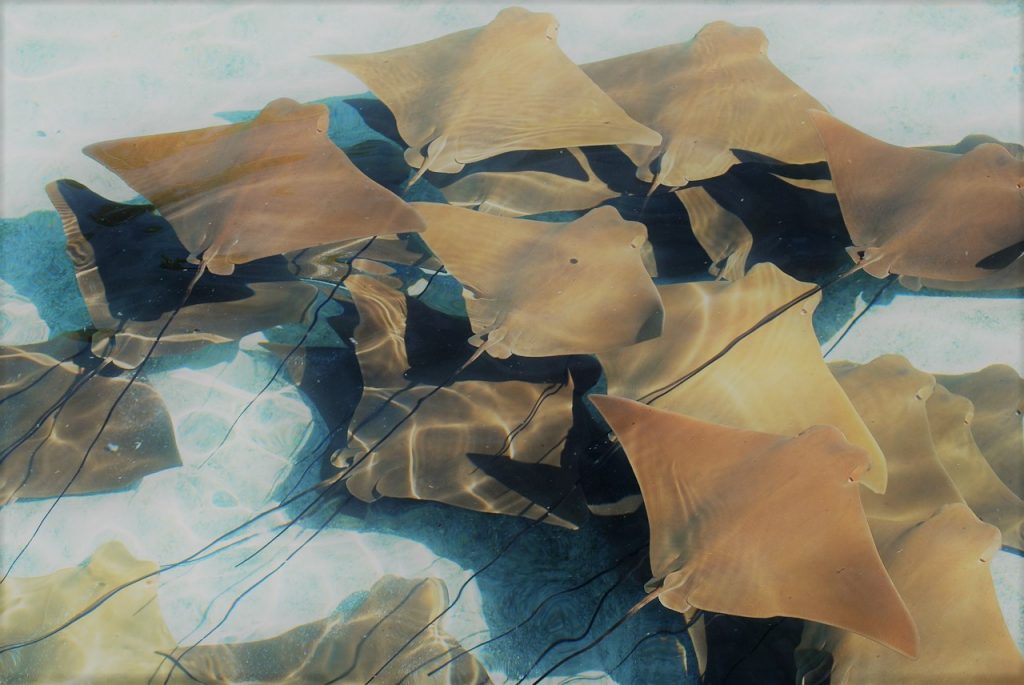 In addition to Spotted Eagle Rays, Stingrays and Manta Rays, marine life Galapagos has another beautiful species to offer. Golden Manta Rays with its amazing golden-colored tops and a distinctive whipping tail is unavoidable when it comes to scuba diving in Galapagos. Don't be afraid of their size that varies about 1.5 – 3.3 ft (0.5 – 1m) across the wings. These peaceful giants enjoy quiet lagoons by themselves or with their ocean friends and families.
4) Sea Lions
If sea lions are your favorite animals, you won't have to look hard to find them. These adorable, playful mammals will delight you with their acrobatic performances. If the Galapagos had a fauna frontrunner, that would be them. Whether they are taking a snooze on a sun-warmed dock or having a daily meeting on rocky shorelines, you'll notice their curious nature. They are always good for a smile, so prepare your camera to capture their submarine gymnastics!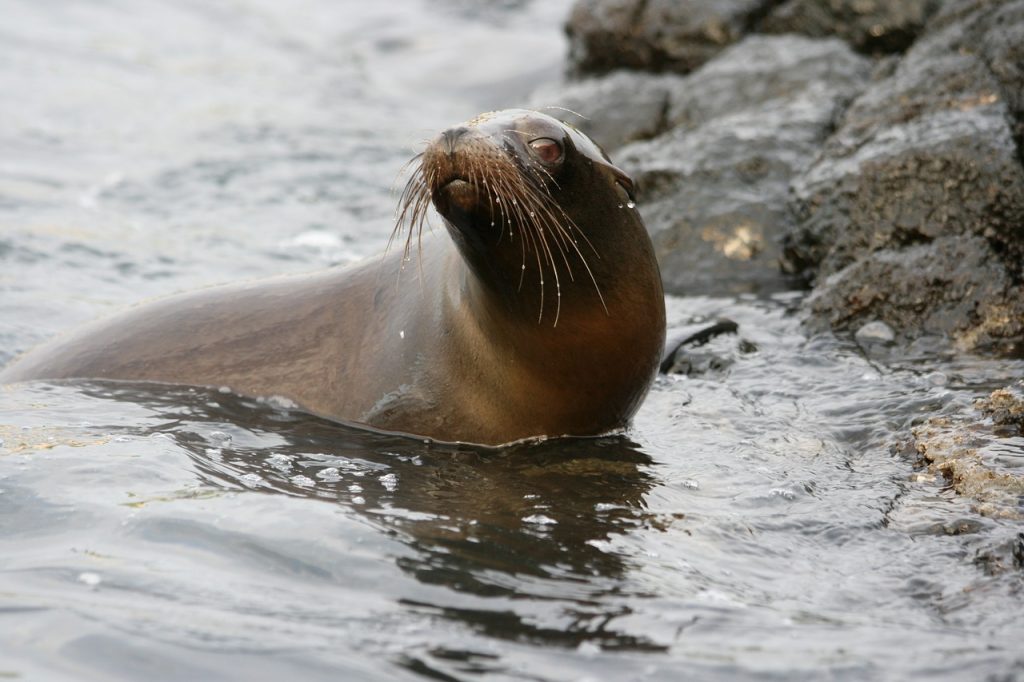 However, they are not just a cute sight but also the largest animals found within the archipelago. Just think about a grown male weighing 550 Ibs (around 250 kg), and it will be clear to you that they are the kings of their area. As it usually is, the females are much smaller. Family-oriented, they take care of the youngsters in large harems. Of course, a dominant male is protecting them while supervising his family.
5) Fur Seals
Nope, it's not a mistake. Fur Seals are other tenants of the marine life Galapagos even though they are seal imposters. They are actually sea lions, but much smaller with larger eyes and ears. If you pay attention, you'll see they even have a larger front flipper so they can climb the rocky coast as they want.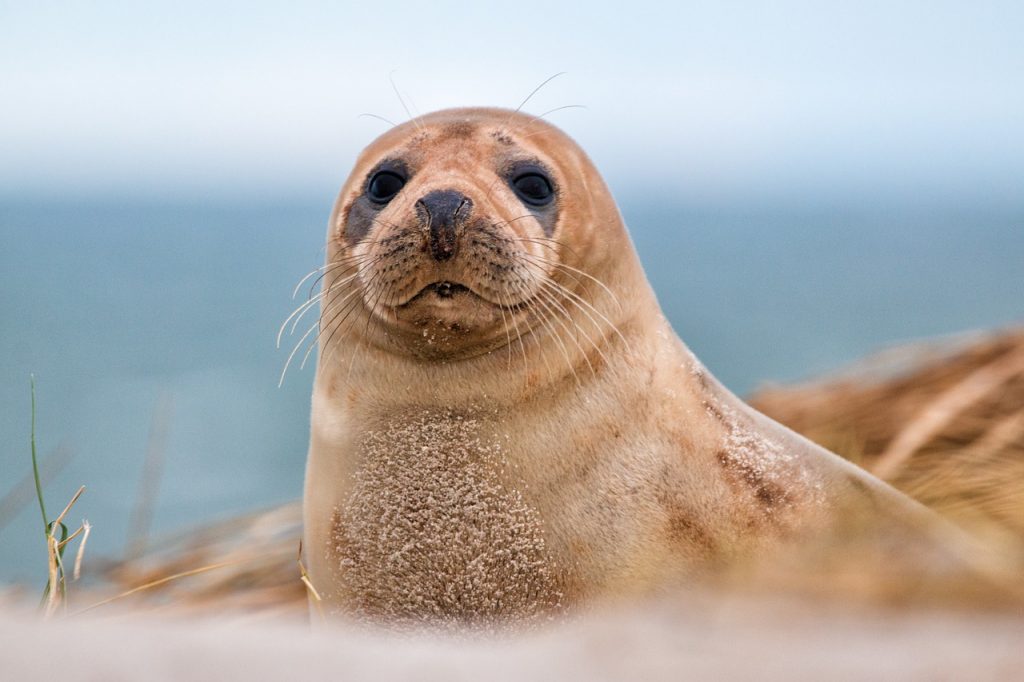 If you haven't already, prepare for an overdose of cuteness because these fluffy lions have the most adorable thick fur coat. Since their fur is like bathing in a winter coat, they are fans of more shaded, chillier water where they can cool off. If you don't mind a little refreshment, you know where to go.
6) Whale Shark
However, if you are not one of those and you want to know more about their interesting lifestyle, read on. Many Whale Sharks in Galapagos will migrate and return the following year, but a good percentage of them will stay within the archipelago. They are not the fastest swimmers so you'll be able to look at them closely.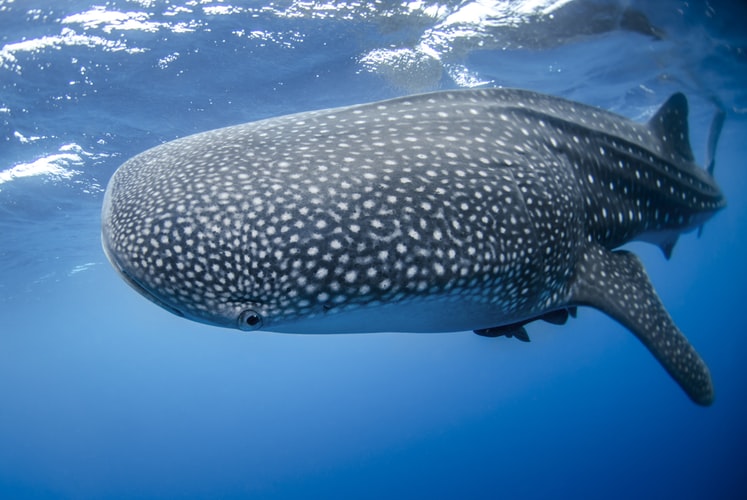 Scuba diving around Whale Sharks in Galapagos is a sight to remember for all ocean lovers. With a 32.8 – 39.4 ft (10 to 12-meter ) range size and weighing up to even 12 tons, they are the largest fish in the world. Although they don't represent a danger for humans as their main food source is plankton, not everyone will feel comfortable around them.
7) Red-lipped batfish
Looking for an endemic species to keep scuba diving in Galapagos in your memory? Search no more, because the red-lipped bar fish is there to amaze you. With its red-lipped pout and the look of a Hollywood star, this funky looking fish is one of the unique ones. They are not much of a swimmer so they can be seen crawling along the bottom of the ocean, searching for their next prey.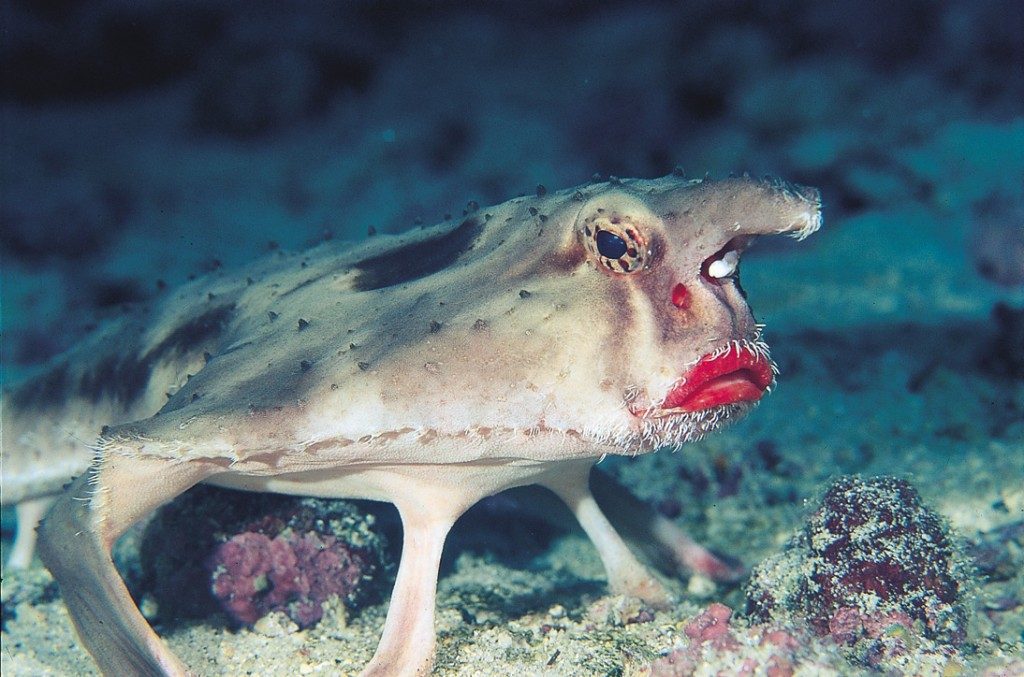 The legend says they are using those lips to lure their mates under the auspices of the ocean. In the fish world, they probably carry the nickname 'Don Juan'.
8) Galapagos Penguin
Get your camera ready because you'll meet the best-dressed bird in Galapagos! These penguins like to live in a tropical climate, and even though they dive all over, look for them in Fernandina and Isabela.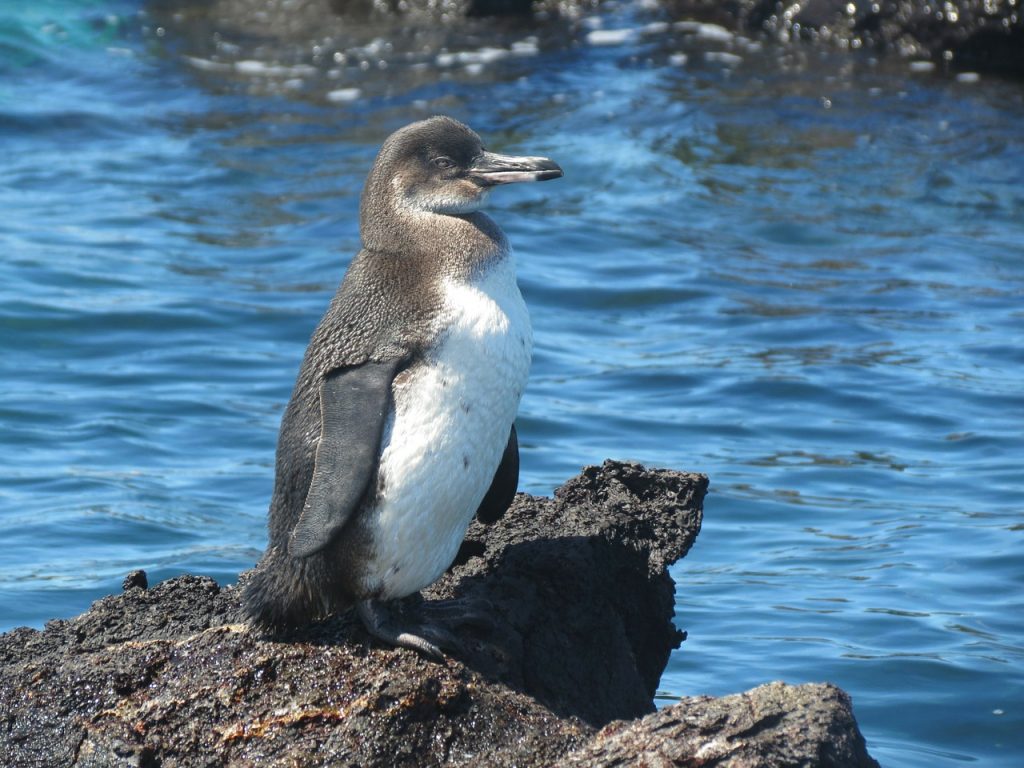 With a combination of a proud posture and gentle temperament, they are more docile than the other penguins. Pretty unique, right?
9) Dolphins
Scuba diving in Galapagos won't be complete without being fascinated by dolphins. These kind creatures are incredibly playful and friendly, so let yourself be amazed by their whimsical and curious dance. As they are widely known for their signs of solidarity, dolphins make great teachers even for a human race. They even have sophisticated mechanisms that allow them to use echolocation to identify their surroundings.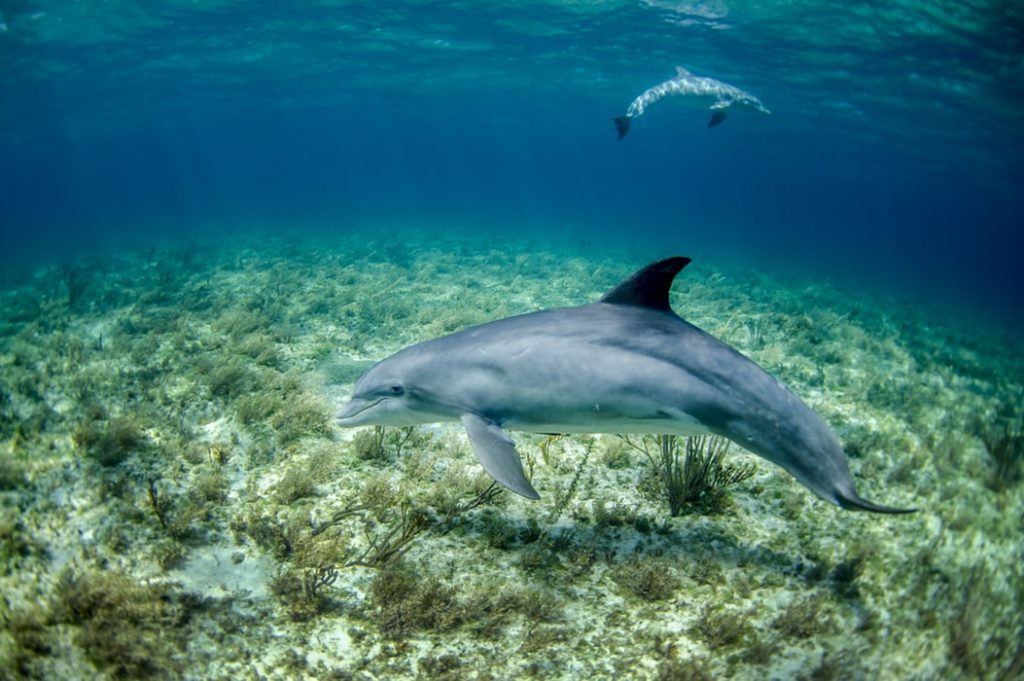 So, relax and enjoy the real-life National Geographic show in front of you. Can you imagine a better way to spend a day?
10) Galapagos Shark
For all those adrenaline junkies wishing to see more of the sharks in Galapagos, this species is the most abundant on a reef. They can be found in a wide range of tropical waters, swimming around in large groups. Due to their aggressive attitude and an average size of ten feet (3 meters), Galapagos Sharks are the dominant ones in marine life Galapagos.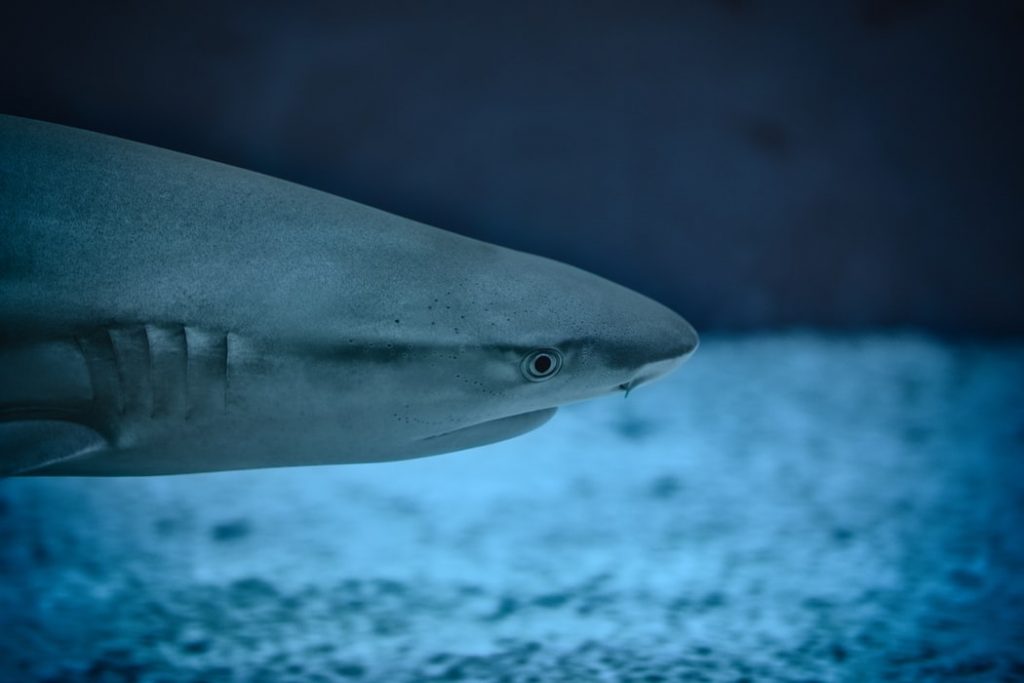 Even though they spend the majority of their time in deeper waters, they can be found in the shallows as well. Respect their authority, especially when it comes to pregnant females that dwell just in the shallows of the ocean (82 feet or 25 meters). Juvenile baby sharks will stay with their moms in these nurseries until they become big and strong enough for a tough life of open water.
11) Galapagos Seahorse
Another interesting inhabitant of marine life Galapagos that will bring a smile to your face is Galapagos Seahorse. With a head that resembles a horse and a worm-like tail, this little sea creature prefers to live in tropical waters. On this island, they are yellow due to their habitat and available nutrition.
Moreover, did you know that male seahorse is the one that becomes impregnated instead of the female? Due to many reasons (and maybe seductive nature?), seahorses are not monogamous, and they often change partners during each breeding season.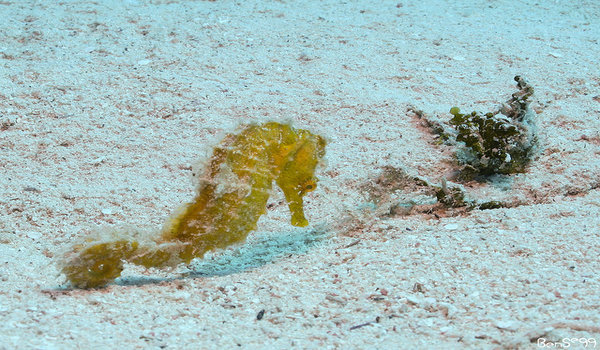 In some parts of the world, they are considered to contain medicinal properties so they are brutally taken from the ocean. Protected by the Marine National Park, this is a strong reminder to live consciously and save oceans even if you are just scuba diving in Galapagos during your vacation.
Scuba Diving the Galapagos Islands
About Scuba Diving the Galapagos Islands
As we grow as scuba divers, many of us start to specialize in certain types of diving, if not to the specializing point at least a preference. Some people pick up cold water/ice diving and enjoy trips to the Fjords of Norway, the frozen lakes of Switzerland, or a dream trip to the Antarctic.
Some just want clear waters, plenty of sunlight, and heavily populated reefs, these divers will head to the Caribbean, Great Barrier Reef or dive sites of the Coral Triangle. Military wrecks bring divers to locations such as Chuuk Lagoon.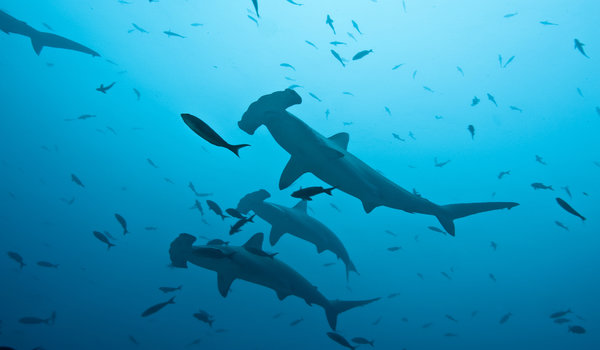 Those who desire the large pelagic, the apex predators and the challenge of man against nature are a special type of diver. Divers of this type have one mecca, The Galapagos Islands Archipelago. With strong currents, cold waters and deep dives, not everyone is attracted to the islands. Like everything in life, things are not always black and white.
While the conditions can be very difficult, the truth of the matter is that most experienced divers will find the Galapagos Islands dive sites within their experience level. An Advance Diver with deep and drift experience who are comfortable in those conditions will find the dives within their grasp.
When we discuss the Galapagos, the conversations often target the epic dives of the very north. These sites are for the experienced diver looking for these once in a lifetime marine encounters, and they get it each dive.
We often overlook the central area. It is here, that less experienced divers can experience diving the Galapagos. They will not experience all the large life, but what they do experience is well worth the trip. While many say it is a bucket list item, something to do once in life, those who have tried it often comes back.
When is the best time to plan you scuba trip to Galapagos?
Diving Galapagos is done year round, but the water temperatures vary depending upon the dive site you choose and the depths you dive to.
Surface temperatures range from 18-30 degrees Celsius, or 64-86 degrees Fahrenheit, with September through November being the coldest months and February through April offering the warmest temperatures.
When diving here, you can expect medium to strong currents, and this is why only experienced divers, or at the very least, mid-level scuba divers should explore these waters.
Unexpected currents do occur, so you need to know how to handle such a situation safely. From July through December, the Humboldt current is experienced from the southeast, and from January through June, the Panama current arrives from the northeast, so there is always some current to be anticipated throughout the year.
Dive sites found in Galapagos
Darwin Island – This spectacular dive site puts you up-close with whale sharks, hammerheads, and Galapagos sharks, so be sure you are prepared to be surrounded by these intimidating creatures.
Gordon Rocks – There are a few dive sites in this area, some better for beginners than others, where you can experience walls with a deep bottom, large schools of hammerhead sharks, sea lions, a variety of fish species, and white-tipped and Galapagos sharks as well.
North Seymour Island – In addition to sea lions and sharks, you can see eels, invertebrates, sea turtles, and rays at this incredible dive site.
Santa Fe Island – This dive site is one that is appropriate for beginners, thanks to its calm, clear waters, where you can see a variety of tropical fish, sea lions, turtles, eels, and even some shark species.
Read more about: The best scuba dive sites found in the Galapagos Islands.
Marine Life Found when diving Galapagos
Because the Galapagos Islands are part of a marine preserve, you are guaranteed to see an abundance of marine life. Scuba divers visit these islands throughout the year to experience the wildlife both on land and in the sea.
Did you know you can also find penguins in Galapagos?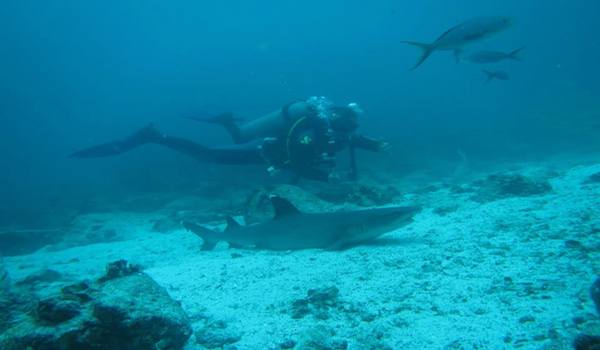 Underwater, you can expect to encounter many unique marine animals, including Whale sharks, white tip reef sharks, Hammerhead sharks and the famous Galapagos marine iguanas that swim underwater. When diving Galapagos also expect to swim with playful sea lions, sea turtles, and several different species of rays.
Would you like to go scuba diving the Galapagos Islands? Check out these scuba dive operators on Galapagos
About the Galapagos Islands
These islands are one of the few in the world that are still largely not impacted by humans, and therefore, the waters are how Mother Nature intended. Any nature lover or scuba diver will adore these islands and will probably never wants to leave them.
The Galapagos Islands and the surrounding waters, are part of a marine reserve and national park, many divers and scientists scuba diving here have had an epiphany of nature while exploring this magical place.
It is a place that is the home of species that are not normally found together, some from tropical waters and others from temperate. Consequently, it is no surprise that every year divers flock to these islands to explore the pristine natural underwater world that they have to offer.
Read: 4 Reasons Why You Want to Go Scuba Diving the Galapagos Islands
How to Get to the Galapagos Islands?
To get to the Galapagos Islands, you first need to travel to mainland Ecuador. Once you are in Ecuador, you can fly from either Quito or Guayaquil to Baltra Island or San Cristobal on Galapagos.
There are three daily flights per day from Guayaquil and Quito to Baltra and San Cristobal. These flights take approximately 3 hours. Expect to pay $300 to $500 USD per person for a round-way ticket depending on the time of year you fly. While planning your visit and your flights, remember the 24 hour fly rule after diving.
Article written by Rutger Thole who is an avid scuba diver and loves to travel, dive and write about scuba diving. Based in Amsterdam, he runs bookyourdive.com and at least twice a year he plans a dive trip of the beaten track.
Manatees, Swim With them in Florida
Florida Manatees
I'd like to introduce you to some of my new friends. They are an endangered species because they die out in winter when it gets too cold. They also get hit by boats & caught up in fishing nets. Some Manatee sanctuaries have been set up in Crystal River, Florida , in the US, where it is possible for you to go and interact with them (as long as you don't harass or stress them).
They are big gentle animals, and once you meet them in person it's impossible not to love them! They vie with each other for your attention as long as you give them a good tickle. In fact I did more scratching of bellies than I did taking of photographs, which should tell you how compelling they are.
The best time to see them is in the winter because they come into the warm springs where the sanctuaries have been set up. I went in early February this year and there were quite a few to play with.The air is frosty-breath cold so a warm hat and coat are essential, as you'll be cold once you are out of the water. The water is about waist deep in the main channel of the springs and deeper as you go further in; I was warm enough in a 5mm wetsuit.
[rushkult_cards]
We went with Birds Underwater and they were great (as was the delicious hot chocolate on their boat!). Birds explained that you have to be quiet and respectful of the manatees, to not separate pups from their mums and generally not splash around too much. They are wild animals (even if they seem to be very tame), and will go elsewhere and risk death by exposure if the springs become unpleasant for them.
The best interactions come when you are quiet and patient. One thing that amazed me is that they would recognize you! It's hard even for us to recognize each other when we have mask & snorkel on, but they will recognize someone who gave a good scratch earlier in the day and come straight over to you (much to the annoyance of everyone else they swim past to get to you).
If you want to get involved in helping to protect these wonderful creatures, or for more info on them, head over to the save the manatee site.
And if possible, head over to Florida to meet them yourself!
Feel free to check out our Scuba Dive partners on the map below for packages, training or guided trips: [rushkult_map]
This article is published by The Scuba Page, the online magazine for Scuba Dive lovers around the world. The Scuba Page is part of RUSHKULT : the online booking platform for adventure sports. Visit the RUSHKULT platform to book your next Scuba Dive training, guided trip and accommodation.
Diving in Cambodia | Where You Should Go For Awesome Diving
Diving in Cambodia has recently been put on the "diving map". The coastline of Cambodia has much to offer with a wide variety of different dive sites to visit. Some dive sites are even still being discovered. The most popular dive sites are located in Sihanoukville and are generally about a two hour boat ride away.
Some of the further outer lying islands such as Koh Tang, Koh Prins and Koh Pulawei are only accessible at certain times of the year due to their location. Most dive centers in Cambodia only offer overnight trips to these sites.
Dive Cambodia
Koh Koun (located near Koh Rong Samloem) is by far the most popular and dived area in Sihanoukville. It is host to five sites with two others located very close on Koh Rong Samloem. The depth ranges from 3m – 25m and visibility depending on the time of year can range from 3m – 15m.
[rushkult_cards]
This area is a protected marine environment and over the last four years of marine conservation, the marine flora and fauna has dramatically increased and showing better signs of growth and health.
Dive experience Cambodia
There is a wide array of corals to be seen and many different species of fish. A popular muck dive site called "The Corral" is home to a variety of species of sea horses as well as many other marine animals such as stone fish, bent stick pipe fish, stingrays, octopus and nudibranchs. Koh Koun offers a macro divers paradise with a great variety of nudibranchs and shrimps.
Koh Tang is located about a further two hours from Koh Rong Samloem and offers seven different scuba dive sites. Due to the remoteness of this island, the visibility can range anywhere from 10m – 30m with an average of about 15m.
Dive sites found in Cambodia
Dive sites range from a depth of about 3m – 20m and offers a huge variety of marine life from marine worms, batfish, spotted sweetlips to giant trevally and barracuda. Koh Prins is similar to Koh Tang, but located about another hour away. It has deeper sites with excellent visibility and scuba divers in the past have spotted whale sharks and marlin.
Due to the distance to get to this site, you will only be able to access it on a live aboard vessel and only for a few months of the year. But you will be rewarded as this is an untouched paradise and is hardly ever dived on giving you the freedom of not diving with crowds.
Liveaboard Diving in Cambodia
Koh Pulawei is the most remote island that is situated near Vietnamese waters. Again, only accessible by a live aboard and only for a few months of the year; it plays host to undisturbed coral reefs and some of the largest fish in these waters.
When to dive Cambodia?
The best time of year to go diving in Cambodia is from October until March when you will find the clearest and calmest waters. For a real diving experience, you can stay on Koh Rong Samloem in an island bungalow and have the easiest access to the dive sites around Koh Koun, giving you the opportunity to get in more dives as well as some night dives.
You will also get to experience the traditional life of a Khmer fishing village that is based on the island and socialize with the very friendly community.
Enjoyed this blogpost about Diving in Cambodia? Sign up for our free newsletter! and get our scuba blogs delivered in your inbox each month.
Feel free to check out our Scuba Dive partners on the map below for packages, training or guided trips: [rushkult_map]
This article is published by The Scuba Page, the online magazine for Scuba Dive lovers around the world. The Scuba Page is part of RUSHKULT : the online booking platform for adventure sports. Visit the RUSHKULT platform to book your next Scuba Dive training, guided trip and accommodation.
BREAKING NEWS! – Media Attacks Shark
News and the media in general love to report animal attacks. A small wound caused by an exploratory bite from a shark is blown up into international news every time.
Even where the only wound is on a surf board we hear about it across the world. There are a lot of great articles out there with theories on why people fear sharks. Is it the media? Or does the media feed off a natural fear? Most likely it's a cycle that feed each other.
Photo Credit: WIlly Volk
[rushkult_cards]
What it tells us for sure, though, is that they are rare. Shark "attacks" are extremely rare and one sign of this is by the fact that the media covers them so in depth. There are simply too many vehicle collisions to report every time someone has a minor injury. Every time you read a news article about a shark bite victim, please do not let it scare you.
Also read: 5 Things More Likely to Kill You than a Shark Attack
Remember: sharks are extremely scared of humans.
They almost always swim away as soon as we enter the water. The only way to see them up close is to chum them in with a lot of bait. Even then it can be a challenge to find them and keep them around.The media is going to keep reporting every bite, but I urge you to keep your head and realize it is extremely rare and you need not be scared.
Would you like to go dive scuba diving with Sharks? Feel free to contact us. We have multiple partners that offer dive packages and scuba lessons.
Feel free to check out our Scuba Dive partners on the map below for packages, training or guided trips: [rushkult_map]
This article is published by The Scuba Page, the online magazine for Scuba Dive lovers around the world. The Scuba Page is part of RUSHKULT : the online booking platform for adventure sports. Visit the RUSHKULT platform to book your next Scuba Dive training, guided trip and accommodation.
The birth of a review based website for divers.
Scuba Travel
After a long flight, you finally make it to your holiday destination. Coming down the escalator or embarking the boat, touts are waiting for you. Mister, Mister have a look at this hotel, come dive with us. This should be a familiar scene for any traveler. The only argument that usually works is to tell them that you have booked a accommodation or a dive already.
If you haven't done this upfront chances are that you will be taken on a trip downtown and pass numerous guest houses or dive centers that pay the tout a commission. This doesn't have to be a bad thing. Worst case scenario is that you end up in a guest house or hotel you do not want to be in. No problem, you rest your bones and go find a new one first thing in the morning.
But what happens if you are talked in to diving with a dive center that doesn't meet any standards, that doesn't employ responsible scuba instructors or dive masters?  If you haven't been diving before, how do you know if it is an established dive center? When you are an experienced diver and you come to a place where you have never been before, how do you know which dive center to choose?
[rushkult_cards]
YOU DON'T.
Find a dive centre that fits you
As a scuba dive instructor I have seen a lot of  dive centers out there that I never ever would dive with. All over the world touts came up to me to ask me to dive with their dive center. They will show me all the best sites, and promise give me the experience of a lifetime. Thanks for the offer, but I will join the dive center that was recommended to me by my friends or fellow divers, those I trust.
About a year ago I was thinking about this, and asked myself the question, Why can't I book scuba lessons or a dive package online based on reviews from fellow divers that I can trust? That would give me the best argument to the touts: "Sorry, I have booked already. I'm just waiting for the pick up."
Soon BookYourDive will be launched. Here you can read reviews, book scuba lessons online, or book that advanced course you always wanted to take. Want to do some fun dives? You can book packages too. Our goal is to help scuba divers worldwide to make safe choices about where to go diving in a region where they haven't been before.
Feel free to check out our Scuba Dive partners on the map below for packages, training or guided trips: [rushkult_map]
This article is published by The Scuba Page, the online magazine for Scuba Dive lovers around the world. The Scuba Page is part of RUSHKULT : the online booking platform for adventure sports. Visit the RUSHKULT platform to book your next Scuba Dive training, guided trip and accommodation.
Why Social Media Matter to Your Scuba Dive Business
With the advent of the internet, suddenly marketing was able to take a new turn. More of an audience could be reached by use of online marketing, and businesses were able to have more creative control over their marketing strategies. When social networks began to gain popularity, even more possibilities became available for businesses to reach their consumers. And these days, if you aren't using social media, you may be missing out on viable opportunities to reach new customers. Let's take a look at why social media is so important.
Building Relationships
People like businesses where they feel like they are personally connected. For example, when you call a business with a question or to resolve an issue, how do you feel about the business based on whether you get a real person on the line as opposed to an automated system? While it is easy to automate social media if you wish, moderating your interaction with people through social networks gives people the impression that you are interested in your customers' input and make yourself available to them, even when you cannot do so in person.
Establishing Trust
Social networks are comprised of people who are socially connected in one way or another. Family members, friends, co-workers, and even people who may not personally know each other, but have similar interests use social networks to get information, opinions, and ideas from people they trust. By encouraging interaction with people via social networks, you begin to build a community of followers who will gladly refer a friend to your business, and perhaps engage in your promotion. Because you have established a relationship with your followers, they are more inclined to promote you to others.
Constant Exposure Trough Social Media
[rushkult_cards]
Through social networking, your business is always on display, as opposed to traditional marketing methods that require renewal and generate higher advertising costs. With the use of a social network, anyone can find you, any time of day they choose. If a customer has a question or a problem, they can feel confident in contacting you through your social network, rather than wonder if anyone will pick up the phone or answer their email. When you have specials or updates, you can post them immediately for all to see. Using photos and videos is a great way to draw traffic to your site, and ensure that people will want to share your business with others.
Social networks provide a free and timely way to interact with your customers, and create an available resource for anyone who wants to know more. Make the most of your business potential by tapping into the abundant resources of a social network!
Managing your online presence can be a time consuming job. If you want to be successful on social media you will have to invest time and effort. If you are active on social media but you do have the time to monitor what is being said or being asked it is time to get some help from the team of Pro Scuba Sites
BookYourDive and the team of Pro Scuba Sites teamed up and therefore we are now able to offer you a one stop shop for your online SCUBA marketing. We will launch early 2013, sign up now for FREE and get an early bird bonus as soon as we launch
Feel free to contact us with any questions you might have via our contact form or our Facebook page
Feel free to check out our Scuba Dive partners on the map below for packages, training or guided trips: [rushkult_map]
This article is published by The Scuba Page, the online magazine for Scuba Dive lovers around the world. The Scuba Page is part of RUSHKULT : the online booking platform for adventure sports. Visit the RUSHKULT platform to book your next Scuba Dive training, guided trip and accommodation.
Lionfish: 10 facts you need to know about juvenile eating invasive predator
Lionfish are an invasive species that has taken over reef ecosystems in the Atlantic and Caribbean, causing them damage and destruction.
The lionfish is a hot item in SCUBA current events. Though beautiful to observe, this fish has infiltrated a marine ecosystem it does not belong to, causing devastating effects to coral reef systems in the Atlantic along the eastern cost of the US and the Caribbean.
Local government and environmental agencies are encouraging SCUBA divers to actively hunt and kill the lionfish, which as it turns out, is a rather tasty fish that can be prepared in a variety of ways.
[rushkult_cards]
What Happend?
There are several theories as to how the Lionfish came to be in the local environment. One such theory is that the invasion was facilitated through the destruction of a southern Florida aquarium during Hurricane Andrew in 1992.
Another tells of lionfish being accidentally released following the hurricane, and yet another proposes aquarium owners were deliberately releasing them into the sea, unsatisfied with the way the fish performed in the aquarium. Still others claim to have spotted the lionfish on local reefs even before Hurricane Andrew.
The lionfish has been able to reproduce at such profuse levels due to certain crucial factors:
Lionfish all over the place
They have no natural predators on the reefs of the Atlantic and [Caribbean](. Any creature that sits at the top of the food chain, unchecked by nature, will enjoy the privilege of populating an area with its own species. But this can have disastrous implications for the area as the system becomes more imbalanced.
They have a voracious, unbiased appetite for reef species. The lionfish is an indiscriminate predator, feeding on invertebrates, small fish, mollusks, and juvenile species in large amounts.
Up to 6 species of fish have been found in it's stomach at one time. They are aggressive and skilled hunters, using specialized characteristics of their bodies to stalk and overtake prey, which they do in one giant swallow.
They spawn at a highly accelerated rate. he female lionfish releases clusters of 2,000 to 15,000 eggs at one time, which are then fertilized by the male, and hatch 36 hours later.
Within 3 days they are competent swimmers, and capable of capturing and consuming small prey. Within 20 – 40 days, the juviniles begins its metamorphosis to adult. The females can repeat this process on a monthly basis with no set breeding season.
They are hostile and venomous.  The lionfish is covered in long, venomous spines that serve as a deterrent to predators in its natural environment, and are incorporated into the capture of some prey.
Feel free to check out our Scuba Dive partners on the map below for packages, training or guided trips: [rushkult_map]
This article is published by The Scuba Page, the online magazine for Scuba Dive lovers around the world. The Scuba Page is part of RUSHKULT : the online booking platform for adventure sports. Visit the RUSHKULT platform to book your next Scuba Dive training, guided trip and accommodation.
Scuba diving is about environmental awareness
Utila Dive Centre has always prided itself as being ecologically aware and it has been  our ethos that part of any course we teach should also include educating people about the reef and the environment. By educating scuba divers of all levels, we can ensure that they interact in a safe and positive way and spread the word as they continue traveling and diving the world.
Last October, we decided we wanted to take this a stage further and coordinate all our green activities and also ensure that UDC strives continually to innovate in this area. We therefore assembled a permanent "green team". this consists of several staff members who meet regularly to discuss, implement and monitor activities. currently the activities include:
introducing recycling bins for plastic all around the dive centre
implementing a green notice board that includes information on what fish to eat and what to avoid, tips on how to care for the reef, quotes of the week and whale shark and lionfish
regular beach clean ups
underwater clean ups
frequent ecology and educational talks from experts
coral watch as a mandatory part of our dive master program
llionfish capture and containment distinct specialty and a lionfish sighting database. (all lionfish data fed to Utila College for Marine Ecology for further analysis)
The green team recently worked on an island wide Utila Clean Up Festival.
This involved on land clean ups, led by the local school kids and underwater clean ups led by the dive centres on the island. The Festival ended in typical Caribbean style with a beach party and Hog Fry!
Photographing the Blue Sharks of Rhode Island
The Blue Sharks of Rhode Island
It was about an hour after we had started chumming. I was so excited to get out there that I had already been in the water twice even though no sharks had showed up yet. Sometimes you are rewarded for such efforts and other times you just get cold. Today, whatever force you want to call it rewarded me.
Marline!!
It was a brief encounter with a large Marlin. She swam in, took a quick look and casually swam away.  She was too far away for any shots, but close enough to get a good look at her. So, after an hour of waiting I already had a great day (my first marlin encounter!). Back on the boat, waiting, I reached into by dive bag to retrieve my 50 spf sunscreen. I dropped it right away as someone yelled "MAKO!"
With all thoughts of skin care far from my mind I rushed over to the side of the boat. A clean and beautiful 5 foot Mako shark was calmly inspecting our hang baits. This is what I traveled to Rhode Island for.
We Got More Then We Had Dreamed Of
[rushkult_cards]
I knew the area was producing a lot of Blue sharks, but mako's are the rare treasures we all hoped would show up. Then a second mako came in and both stayed for a few minutes making close passes by the boat. The dive operators who are out there almost every day of the season, year after year, said they had never seen that before.
By the time I got in the water the mako's had taken off, no doubt bored or scared by us clumsy humans. They were replaced by four blue sharks, one of which was very large (close to 10 feet).
Getting Up Close And Personal
These were the first blue sharks I had gotten in the water with.I was instantly impressed with the incredibly vibrant blue of their backs and, moreover, their curious nature"  The blues would swim right up to us trying to figure out what the heck we were.
Their long noses would come right up to our cameras' dome ports. Close proximity to these sharks made everyone on board happy as it is extremely important for underwater photography. Even with the great shark models, I found it challenging to get good shots. I am not a pro like some on board, but I should have not made some of the mistakes I made.
Making The Perfect Shot
Bubbles collected on the outside of my dome port should have been wiped off much sooner as they ruined many shots. The visibility was fairly poor with particulate in the water so I tried for mostly natural light shots. When I did turn my strobes on, they should have been turned down from full power to avoid burning out the white parts of the sharks. This mistake, again, cost me shots. I guess that's how we learn.
Over the 3 days we spent out there we had
4 Makos
45 blue Sharks
1 marlin
1 hammerhead (made a distant pass)
Many shearwaters, yellowfin tuna
I was lucky enough to be in the water when a baby mako showed up to the boat. She never came in close, but I was more than thrilled to simply share the water with her. The blue's were almost a constant and gave everyone on board a lot of time in the water. Of course, you can never have too much!
I got a sunburn, yes, but I was well rewarded for being out there. Not getting the mako shots just give me an excuse to go back. And go back I will. Special thanks to our hosts Joe Romeiro and Brian Raymond.
Enjoyed this blog post about Photographing the Blue Sharks of Rhode Island? Sign up for our free newsletter! and get our scuba blogs delivered in your inbox each month.
Feel free to check out our Scuba Dive partners on the map below for packages, training or guided trips: [rushkult_map]
This article is published by The Scuba Page, the online magazine for Scuba Dive lovers around the world. The Scuba Page is part of RUSHKULT : the online booking platform for adventure sports. Visit the RUSHKULT platform to book your next Scuba Dive training, guided trip, and accommodation.
Moray Eels | Where to find them in New Zealand
I am cruising along the wall. My buddy and I are having a leisurely dive.
My camera is out in front of me and I am using my mounted torch to scan the wall. A shape and some color makes me stop and edge closer to the wall slowly.
It is a Moray Eel. Peeking out of the rocks – moving slowly backwards in to its small space when my light catches it. Looking a whole lot more scary than what they really are. Moray Eels are a common sight when scuba diving around New Zealand and one of my favorite photographic subjects.
Most of the time they are tucked into a hole or crevice with only their eyes and mouth in view and will sit very very patiently while I flash bright lights in front of them. Sometimes, they are out and about but usually it seems they are moving in the opposite direction from me!
[rushkult_cards]
I love their expressions; the softer, more innocent smiling Grey Moray to the aggressive long snout and evil eye of the Mosaic Moray. A Moray eel is a vertebrate – or a "bony fish" however the number of bones in the skull is dramatically decreased from that of fish.
Continuous dorsal and anal fins propel the eel through the water, enabling it to move quickly but not for lengthy amounts of time. However the speed at which he can propel itself backwards has to be seen to be believed! The extension and malleability of its body is more suited to tucking into crevices and holes and then sitting and waiting than free swimming and hunting. The eel is also covered in a mucus.
Moray Eel on the hunt
They will wait until their prey is close enough and then they will lunge out and clamp their jaws around their intended prey – most often fish, molluscs and crustaceans. They are opportunistic omnivores – catching what they can.
Moray's have extremely small gills with no covering so the sight of a wide mouthed Moray eel in a crevice can be daunting until you understand that the opening and closing of the mouth is not a defensive warning but rather the eel is simply breathing.
As they tend to retract themselves backwards and hide from humans when we are taking photographs, much patience can be required.
Although the eels appear to be vicious and ill-tempered, they cannot see or hear very well and rely on their strong sense of smell. If you are bitten by one, the reaction is to jerk your hand backwards which you want to avoid. This will cut you further and some species have backwards facing teeth which prevent its prey from escaping from its mouth.
Some Moray eels carry bacteria on their teeth and parasites from other fish or microbes from the water. Secondary infection is possible so clean the wound, disinfect it, keep it dry and seek medical advice.
Moray eels are most active at night.
If you are night diving near boulders, cracks, rocks or crevices, have patience and wait in the same spot for a small period of time. Chances are you will see one of the following out and about.
There are five species of Moray's found in the north-eastern part of New Zealand;
The Yellow Moray (Gymnothorax prasinus) is New Zealand's most common Moray – however it is not found in the South Island and is apparently less common at the Poor Knights Islands. Yellow Morays feed mainly on crustaceans and actually use cleaner shrimp to ensure that their teeth are clean and free from parasites. The colour can vary from green-yellow to yellow to a brown-yellow and some eels can have extremely blue eyes.
The Grey Moray (Gymnothorax nubilus) looks to be the most placid.
It is the smallest and most slender of New Zealand's Morays and has a distinctive dorsal fin which is rather tall for its relative size.
It has a much longer snout and is overall much narrower than a Yellow Moray for instance and is therefore more suited to probing into narrow cracks and fissures to find its prey of crabs and shrimps and very small fish.
The Spotted Moray (Gymnothorax prionodon) is most common further north. Relatively uncommon at the Poor Knights Islands, they are more often found near the Cavalli Islands. The Spotted Moray has a dark snout and very clear white spots. It also has long jaws similar to the Mosaic Moray.
It is difficult to photograph. Unfortunately artificial light seems to ruin the camouflage effect that the spots can have and the light also changes the colours of the eel so that it appears very light brown instead of the dark and more natural colour that can sometimes obscure the spots.
The Mosaic Moray (Enchelycore ramosa) looks fierce as it is always seen with its mouth wide open – this is because the Mosaic Moray has teeth in the roof of its mouth and is therefore unable to close it fully. It is a very big and strong eel. Octopus have been sighted as being a meal of the Mosaic Moray on occasion.
Often seen in ghostly white, when the Mosaic Moray is olive-green it is quite well hidden.
The Speckled Moray or Mottled Moray (Gymnothorax obsesus) is one of the largest Moray eels in New Zealand waters.
It has a large but short and stocky snout and very strong jaws. Speckled Morays have been observed to be very aggressive towards each other. Obsesus in name and stance, it has been reported that two of these enormous Moray eels were sighted locked in furious combat.
I prefer to observe and photograph without initiating non-natural behaviours and I am glad I stick to that policy especially when there is video evidence such as this that nature does not always understand our 'good' intentions ….
Enjoyed this blogpost about Moray Eels? Sign up for our free newsletter! and get our scuba blogs delivered in your inbox each month.
Feel free to check out our Scuba Dive partners on the map below for packages, training or guided trips: [rushkult_map]
This article is published by The Scuba Page, the online magazine for Scuba Dive lovers around the world. The Scuba Page is part of RUSHKULT : the online booking platform for adventure sports. Visit the RUSHKULT platform to book your next Scuba Dive training, guided trip and accommodation.
5 Tips to Make the Best of Your Scuba Trip
Scuba diving has become an increasingly popular sport over the last decade.  Many holiday resorts now offer dive packages to their guests, but it is becoming more and more common for people to go on targeted dive vacations, a real scuba trip in other words. 
Scuba diving, although classed as an extreme sport because of the associated dangers, is mainly a very relaxing sport and there are plenty of dive vacations that you could consider if you are interested in scuba diving.
Types of Dive Vacations
There are a few different types of dive vacations:
All-inclusive dive resorts that specifically cater to dive tourists – both those looking to gain a scuba certification and experts
Live aboard dive vacations where you travel on a boat and spend several hours each day diving in different locations
Normal vacations where you go on vacation like normal and book dives once you arrive through a dive company not affiliated with your hotel.
[rushkult_cards]
Another type of dive vacation that is growing in popularity is a self-exploration dive holiday.  During this a diver or group of divers will rent a vacation home for a week or so and travel with their diving gear.  They will then dive using their own gear from a location that suits them. 
Usually the only types of dives available in these circumstances are shore dives unless the group decides to get in touch with a local dive company.  It is also only a good idea for experienced divers to take part in this type of vacation.
Whether you plan your holiday schedule around diving or the other way around is completely up to personal choice, but more and more travel agents are able to assist you in tailoring the best holiday package to suit your needs.
Popular Destinations for a Scuba Trip – Africa
One of the most popular destinations for a dive vacation in Africa is Mozambique, particularly Tofo.  Tofo offers fantastic opportunities for coral diving and the marine life is amazing.  You are likely to come across whale sharks, humpback whales and manta rays.  Holiday cottages are also available in abundance.
South Africa is another popular destination for divers, particularly for those who want to go shark diving. 
It is also possible to opt for an extended stay, spending part of the holiday diving and another part of the holiday on safari, basically enjoying nature above the water and under the water.
Popular Destinations for a Scuba Trip – Australia
Of course, no diving record is complete without at least one dive in Australia, particularly the Great Barrier Reef. 
Of course, it is important to remember that damage has been done to this fantastic reef because there have been so many divers who have been careless and completely disrespectful. 
However, there are other destinations in Australia as well that are fantastic for diving, again allowing you to combine diving with a great destination.  Some holiday cottages in Australia even come included with diving gear, which makes it even more interesting.
Popular Destinations for a Scuba Trip – North America
North America is an often forgotten scuba diving destination, but it actually offers some of the best dive sites around.  The Florida Keys, in particular, have some fantastic opportunities and holiday accommodation is incredibly cheap.  This is a great place to go on a family holiday, having a nice pool present in the villa for those in the party who are not all that interested in diving, for example.
One of the great things about a scuba trip is that everybody can take part in it.  More and more families are now going on diving holidays to dive as a family, particularly those with slightly older children. 
By renting a holiday home, you are not only making sure that you are able to take the whole family diving, but also that everybody can have a great time once the diving has finished. 
You could even opt to go diving in France, particularly along the Cote d'Azur, where the waters are very comfortable, the beaches are long and white and everybody can have a great time.
A scuba trip can be the trip of a lifetime, or the start of a regular holiday.  You will be able to travel the world, dive the most amazing sites and experience ancient and modern cultures alike by opting to rent a holiday home in a popular diving destination. 
Besides the ones mentioned above, there are many other destinations that you could consider, such as Thailand and Egypt for example, where diving sites are some of the best in the world and accommodation is cheap. 
You will probably find that you will significantly reduce the cost of your holiday by opting for this scenario, rather than booking on a diving holiday, even if you have to buy your own equipment (although you are likely to be able to rent it, in a similar way to skis during a skiing holiday).
What are your tips for a relaxed scuba trip?
Let us know in the comments below
Feel free to contact us. We have multiple partners that offer dive packages + accommodation and scuba lessons.
Enjoyed this blogpost? Sign up for our free newsletter! and get our scuba blogs delivered in your inbox.
Feel free to check out our Scuba Dive partners on the map below for packages, training or guided trips: [rushkult_map]
This article is published by The Scuba Page, the online magazine for Scuba Dive lovers around the world. The Scuba Page is part of RUSHKULT : the online booking platform for adventure sports. Visit the RUSHKULT platform to book your next Scuba Dive training, guided trip and accommodation.
Free Diving: A Freedivers Point of View
How long can you hold your breath? researchers estimate the average is around 30 – 40 seconds depending on fitness.
What would you say if I told you there are people out there who can hold it for over 11 minutes? 11.35 to be exact is the current recognized world record as judged by AIDA the worldwide federation for breath hold diving which includes free diving.
This is achieved with intense training regimes that begin with relaxation techniques such as yoga, meditation and diet, what you eat days leading up to your attempt can have a dramatic effect.
Free diving what are the limits?
[rushkult_cards]
If you think what is deemed reasonable on recreational scuba dive kit where most scuba divers will not venture past 40 meters, and you take into consideration the effects of pressure and buoyancy.
What is your estimation? possibly 30 metres max?
The Professional freediver will reach depths of 210m and deeper using no-limits diving methods which involves a weighted sled attached to a line, which is then brought back to the surface by inflating lift bags with attached cylinders.
William Trubridge is possibly the most famous professional freediver as each year he smashes through his personal bests and goes beyond what is considered humanly possible reaching depths of 100m with no fins he even swam through the Dean's Blue Hole Arch in the Bahamas just wearing a pair of trunks and mask!
Each year we seem to learn that you can train your body to survive in the most extreme of situations. Herbert Nitsch "The world's deepest man" another world champion, has claimed he can break the 300m barrier, we will have to wait and see.
AIDA International
If you wish to know more about the current men and women's world records please have a look at AIDA site about free diving world records . AIDA International is a non profit organisation that was founded in 1992 to further the development of freediving.
Free diving, what are the practical uses
Spearfishing is probably the most common reason for free diving as it is not particularly safe or effective doing this on scuba. You will often find spear fishermen in the smallest coastal towns all over the world. A great example I saw recently was on the BBC Program Human Planet. They followed a Bajau fisherman who dives down to 20 meters to hunt for fish, which is part of his everyday life and fight for survival.
My free dive experience
My personal reasons for wanting to learn to free dive started with me scuba diving. As I imagine with many people it does. I was doing my Open water diver course. When I had one of my first sessions down at around 15 meters i saw a freediver swim around a wreck and came back up. My instant reaction was amazement. I Instantly knew I wanted to experience that one day.
I continued my scuba courses and logged my dives until I felt comfortable enough to give free diving a try. I decided to go for a free dive course as I understood the risks of throwing yourself below the water with no training. The main benefit of the free diving for myself had to be for the photography. The freedom of movement, lack of equipment and speed I could get from apnea.
Becoming a certified free diver
As I began to find out more information one name kept cropping up in particular, so I had a chat with Steve Millard an AIDA Certified Master Instructor and past captain of the UK Freediving team. I explained why I wanted to become a certified freediver and what I wanted to get from the course.
I already mentioned William Trubridge he is probably one of the most famous free divers out there and he helped the sport become more populair then ever. Have a look at this video where he is free dives the famous Arch in Dahab.
Starting the free dive course
I enrolled on the course and immediately was surprised how much preparation and theory is actually involved. After a few pool sessions I was already feeling a lot more confident that I could reach my targets. Within the first week I had improved my breath hold time from 2 minutes to just over 3 and a half minutes which is now above 4 minutes. Eventually after practicing technique, static apnea and more theory I was ready to be released into Open water.
My first time in Open water was a "breath taking" experience. We began by swimming down to 6 meters to get comfortable, whilst being given advice to improve techniques. After all it was very different from scuba diving. Such things as equalization, finning and pre-dive breathing all came together. After a few more sessions I was comfortable enough to attempt 18 meters.
My first free dive
I began my descent slowly finning down the line taking time to clear my ears. I reached the bottom and paused for a few seconds, in that moment I could hear my own heart beating. The rain hitting the surface of the water before I continued to make my ascent back up to the surface which when you relax and close your eyes is a great feeling.
I completed my AIDA ** Freediver course, and introduced my camera into the mix. That was my main reason to start. I now regularly attend the club diving nights to work on technique, relaxation and most of all because its good fun! We all help and look after each other and make great models for photos. I plan to push my free diving further and develop it as another skill in my underwater adventures. I introduce new people into the idea, and hope they enjoy it as much as I do.
If there is anything you would like to know about free diving (In the UK) please do check the website of free divers UK. You could always leave a comment below.
If you don't remember anything else, remember this; never freedive alone!
Guest blog written by: Ryan Johnson
For more of my photography work please visit my website
Feel free to check out our Scuba Dive partners on the map below for packages, training or guided trips: [rushkult_map]
This article is published by The Scuba Page, the online magazine for Scuba Dive lovers around the world. The Scuba Page is part of RUSHKULT : the online booking platform for adventure sports. Visit the RUSHKULT platform to book your next Scuba Dive training, guided trip and accommodation.
Scuba Diving in Utila, a dive instructors point of view
Diving in Utila is rich and diverse. We have more than 70 marked buoys and many more unmarked sea mounds and other sites. Many dive sites here in Utila are within 5 to 10 minutes of the town with the furthest only being 30 or so minutes away (depending on the speed of the boat you are on!) Diving in Utila is awesome and we will tell you why.
The glorious visibility, healthy coral, huge variance of fish, tropical warm water and the ever present chance to snorkel with dolphins and whale sharks and you can see why every level of diver would like to come diving in Utila
Photo Credit: Scubaben
Diving in Utila
[rushkult_cards]
The diving in Utila separates broadly into different regions, all offering something unique. The South of the island has white sand beaches that run into the ocean ringed with fringing coral. The sand patches are home to flounders, garden eels, sea horses and other magical creatures.
There are also lots of squid who all like to hang out in big groups of 20 or more and change colour on the whim of their leader! The coral closest to the sand patches where it is shallow are a perfect nursery for juvenile fish, so you can see miniature versions of all the reef fish you see round Utila.
Diving in Utila: A Scuba Divers Delight
Moving further up the shore, still on the south side of the island of Utila but closer to town, we start to get walls. The top reef is about 5m and has sand patches and soft coral with the walls descending to 20m or so and then deeper out in the sand. These walls also have an abundance of black coral and are good sites to encounter Turtles, Morays, huge Channel Clinging Crabs and Lobster. There are also often schools of Black Margate, Atlantic Spadefish, Creole Wrasse and Blue Chromis.
Photo Credit: Scubaben
Diving the Wrecks and Reefs of Utila
Moving round into the harbor, we are lucky enough to have our very own wreck, the Halliburton . Many divers come to Dive in Utila to explore this famous shipwreck.
It was sunk in 1998 and has developed into a rich ecosystem.It is a 30 meter long cargo ship that sits perfectly upright in 30m of water. Perfect for the deep dive of the Advanced course, wreck specialties and anyone who loves to see a majestic ship in crystal clear blue water!
Diving the South East of Utila
The South East section of the island offers some of my favorite dive sites. The reef is gently sloping and covered with beautiful soft coral. It also has lots of sand channels and a sandy bottom so it is perfect for seeing Eagle Rays and Stingrays. There are also a couple of small wrecks and lots of little caverns and swim throughs and when the sunlight hits the sites at a perfect angle for showing off the beautiful topography.
Diving the North side of Utila
The North side of the island is famous for its dramatic drop offs as it is the end of the Mesoamerican reef that starts in Mexico and runs down through Belize and finishes in Utila.
This reef is the 2nd largest in the world and creates an awe inspiring backdrop. The walls drop to more than 100m and then deeper and deeper as you move away from the shore. Our tech divers love this side of the island and it has several swim throughs at more than 40 metres!
For recreational divers the feeling of floating over the edge and seeing the wall fall away beneath you makes every dive site here take your breath away. It also has large schools of the huge ocean going fish that are coming up from the depths to feed.
Photo Credit: Recovering Vagabond
Tiger sharks, White Tips and Nurse Sharks can sometimes be seen although no one is sure who is watching who!! Large Grouper lazily cruise along checking out the reef for a tasty snack and for those that like the "small stuff" Lettuce Leaf slugs, Flatworms and nudibranchs can be found in the shallows.
Diving in Utila can be done by divers of all ages and experience and will satisfy even the most discerning diver.
Have you ever had the please to go diving in Utila? Let us know in the comments below.
Enjoyed this blogpost? Sign up for our free newsletter! and get our scuba blogs delivered in your inbox each month.
Feel free to check out our Scuba Dive partners on the map below for packages, training or guided trips: [rushkult_map]
This article is published by The Scuba Page, the online magazine for Scuba Dive lovers around the world. The Scuba Page is part of RUSHKULT : the online booking platform for adventure sports. Visit the RUSHKULT platform to book your next Scuba Dive training, guided trip and accommodation.
10 Tips to Get Your Mates into Scuba Diving
As scuba divers, we all know how cool scuba diving is. There are loads of reasons why this is the case, yet when I try and convince a friend or family member to join me in my hobby-obsession I fail horribly.
As a result i have compiled the definitive top 10 things to say to people to get them to go scuba diving. I strongly advise you print this out, laminate it and carry it at all times.  It can then simply be handed over to prospective divers mid conversation to save the ensuing boredom of you having to repeat your case.
1. When scuba diving you get to see stuff underwater
I appreciate this sounds obvious, yet it seems every time I tell people I scuba dive they ask me, "Why would you want to do that?"It seems fundamental that you get to see stuff, but non scuba divers seem unable to grasp the concept and often see us as thrill seekers, adrenaline junkies and that scuba is an extreme sport.
[rushkult_cards]
So be sure and big up how cool it is to see underwater life in their environment, just swimming alongside them. Ever been on a safari? – well, imagine that but not having to stay inside the vehicle.
Loads of people enjoy museums so what about scuba diving on a wreck then? That is where thousands of artefacts come from, and as a scuba diver you get to see them undisturbed they way they fell maybe 100's of years ago. Just you, the soothing sound of your breathing and your imagination. It's a powerful combination.
2. Health & fitness
I appreciate that the regular diver can be of a fuller disposition, but ultimately scuba does no harm to your fitness level. Lugging around lead weights and twinsets will certainly improve your muscles I can tell you that.
Early in my diving I also became aware of the condition, "scuba fit." My instructor was a practitioner of the fuller shape, yet once this man was in the water he was a machine. If you dive regularly your leg muscles will respond accordingly and cardio will follow.
3. Be social, be happy a Happy Scuba Diver!
Scuba is a social hobby as much as a sport. There are loads of dive clubs in every area, even if then sea is miles away. It's a perfect excuse once a week, once a month or whatever to get out of the house, go diving and meet new people. Divers are a friendly bunch as there aren't that many of us; I've always find other divers chatty and friendly.
You don't even have to be in a club, I'm not, but there are always plenty of semi naked divers around the shorelines happy to have a chat about the huge shark you didn't see on your dive.
Don't forget, after every dive you must have a dive debrief….. in the pub.
4. You get to buy lots of cool scuba stuff
I have noticed that those attracted to diving tend to have a fondness for gadgets and stuff. If you have a friend or family member that has the best iPhone, TV, netbooks etc then simply show them a catalogue of tech diving equipment and leave them to it. They will be in doubles by the end of the week, I guarantee it.
5. Scuba diving reduces stress
We live in a time where words like depression, anxiety, suicide and Prozac are all too common. It is a sad state of affairs but don't worry because scuba is the cure. Perhaps that's a slight exaggeration, but it does have merit. Personally I find diving very relaxing. It provides a soothing atmosphere, closeness to nature and an absence of the everyday nonsense that causes stress. I'm not sure you can get a prescription for it, but it's always worth a try.
"Yes doctor – I need prescribed a week on a live aboard in Egypt. Thank you."
6. Chicks Dig Scuba Divers
I suggest this only be used to get men into diving.
Being a diver isn't your average hobby, so when you explain to a hot chick in the local pub that you take your life in your hands and explore new depths of the ocean, you should be impressed by the response. They will be in awe of your fearless attitude to life and need for new challenges.
The reality of course is that you dove the local quarry to 15m like you do every Saturday morning, and then went to the pub for a pie. You could say diving grants a poetic license.
7. Scuba Dive Holidays
When wife-buddy and I first became qualified divers, Kerri explained that, "not all our holidays are going to be diving holidays you know?" Since qualifying all our holidays have been diving holidays. Diving makes you look at things in a different light, and will lead to you to visit places or countries you previously would never have considered.
It's a disgrace that I had never explored the beautiful west coast of my homeland until I started diving. I bet there are some fantastic scenic dive sites not far from everyone's home.
8. Learn A New Skill
Scuba diving is a continual learning process. You must learn to dive in the first place in order to get certified, but after the curve continues. I found I thoroughly enjoyed learning a new skill set and have undertaken more training since my basic qualification.
I hated school because  I was forced to learn, now,  as it is on my own terms, I have found it very rewarding and I'm actually quite good at it, … well, … apart from decompression calculations, but that's why we have computers right?
9. Save The World
We all have a friend who doesn't eat meat, I even know some who won't eat anything from anything that was once alive, or something like that. These environmentally engaged folks are an easy target to get into diving. There are numerous ways to benefit the environment when scuba diving. You can check the local aquatic life over a period of time if you dive the same site regularly.
There are many online projects that would be grateful of such data and know what species of life may be under threat for one reason or another. PADI offers a Project Aware speciality along with many other similar agencies.
Scuba diving is about environmental awareness. Cleaning up a beach Lough, river, or lake is a much easier task if you are a diver. Kerri and I have done our bit collecting tins, bags, plastic, old fishing  line, hooks and even beer bottles from our frequented dive sites. It's disgusting what gets thrown into our seas and it feels good to help even just a little in cleaning it up.
10. Drown A Friend (almost)
If you need to resort to something more extreme to manufacture a new dive buddy then this is a tried and tested method. Basically grab a friend unawares and hold their head in a bucket of water. At the point of drowning pull them out, pop a regulator in their mouth and hold them under again.
That regulator will now become their favourite thing ever. Leave them a few minutes then release and explain just how useful being able to breathe underwater really is. They will now have a new love of scuba regulators and become an avid diver immediately.
Would you like to get your mates in the water too? Feel free to contact us. We have multiple partners that offer dive packages and scuba lessons.
Enjoyed this Guest blogpost about 10 tips to get your mates into scuba diving ? Sign up for our free newsletter! and get our scuba blogs delivered in your inbox each month.
Feel free to check out our Scuba Dive partners on the map below for packages, training or guided trips: [rushkult_map]
This article is published by The Scuba Page, the online magazine for Scuba Dive lovers around the world. The Scuba Page is part of RUSHKULT : the online booking platform for adventure sports. Visit the RUSHKULT platform to book your next Scuba Dive training, guided trip and accommodation.
Times are changing and you'll have to change with it. At least a bit. You'll have to know what is going on out there. In this first post I'll give you some simple tips and quick wins on using social media for your dive center.
When you use social media you are doing online marketing. It is a way to interact with potential clients all over the world. It is also a perfect way to stay in touch with your existing customers.
We al know about social media tools like:
Twitter
Facebook
LinkedIn
Flickr
[rushkult_cards]
But what to do with it? That is not why you got into diving
Probably most of your (potential) customers are living in a concrete jungle
The chances are that you are based in one of those beautiful places on earth. Surrounded by a blue ocean, beaches, nature and most important you'll get to scuba dive as much as you want. So the excuse I have nothing to share is non existing.
Social Media: Which channels should u use
Create a Twitter account. Sign up here, upload  your logo and write a short bio. Easy does it. Try to post 2 to 3 tweets a day about what you have seen on a dive. Tweet some pictures from the open water course that you are doing? This is the kind of information your potential customers would like to see.
There are multiple tools to make your social media life a lot easier. I prefer to use buffer With this tool you can schedule updates for twitter and Facebook. When you would use a tool like this you will be running your social media even when you are bussy with your scuba business.
Using Social Media: Facebook
You'll have to know that Facebook doesn't allow your scuba business to have a personal profile. A personal profile is there for humans. How do I know if my scuba business is on a personal profile?
If people are not able to "LIKE" your page and only become a friend you are on the wrong side of the road. But there is light at the end of the social media tunnel. Facebook now allows you to convert you personal profile into a business page. Before you convert your page I recommend that you make a copy of your profile.
Stay in touch
Invite all your customers who use social media to "LIKE" your Facebook page. Give them an update now and then on what is going on in your dive center. Chances are that they will sitting behind a desk when the see your updates about: scuba diving, white beaches, and people having fun. Using social media like this could help you grow you business.
Use the content you create every day
Offer your customers the opportunity to upload the video and photos they have made to your facebook page. I do not know 1 videographer or photographer who would say now. All these will help you to engage with potential customers world wide and help you to maintain your regular guests.
We wanted to give you our point of view on how you could use social media. It is not rocket science but it will only work for you if you put continuos time and effort in it.
Need some help with your social media marketing?
We know you are bussy and chances are you do not have the time to manage your social presence too.
That is were we can assist, we teamed up with Pro Scuba Sites and now we will be your one stop shop for your online SCUBA marketing.
We offer everything from custom made SCUBA websites to running AdWords campaigns and managing your social media profiles. We even take in special requests. Sign up for free and get an early bird bonus as soon as we launch!
Feel free to check out our Scuba Dive partners on the map below for packages, training or guided trips: [rushkult_map]
This article is published by The Scuba Page, the online magazine for Scuba Dive lovers around the world. The Scuba Page is part of RUSHKULT : the online booking platform for adventure sports. Visit the RUSHKULT platform to book your next Scuba Dive training, guided trip and accommodation.