If you are a scuba diver, you will probably own your own wetsuit. This means you also know just how much these items cost.
Hence, it is likely that you will want to know how to look after it. Let's take a look at some of the things you should do and shouldn't do.
What You Shouldn't Do with your Wetsuit
Drying your wetsuit is very important. However, don't use the sun to do this for you, and don't simply leave it in the trunk of your car either.
You should also never use a washing machine or tumble dryer to dry out your wetsuit.
Don't use hot water to clean out your wetsuit as this can make the material more rigid and uncomfortable.
Don't use any products not designed for wetsuit cleaning, in particular bleach.
Photo Credit: sierragoddess
What You Should Do with your Wetsuit
As soon as possible, you should soak your wetsuit in some cold or lukewarm water. Make sure that it is fresh water as well. Mix up some wetsuit shampoo and a little bit of baking soda to scrape the suit. Doing this will stop the material of the suit from becoming smelly.
[rushkult_cards]
Swish the suit gently and leave it for about half an hour. Then turn your suit inside out and repeat the procedure for another half hour. Make sure you replace the water, shampoo and baking soda.
Use a toothbrush to scrub your Velcro patches (this can be the same you use to prevent your mask from fogging and your zippers. Also open and close the zipper so that any dirt left in the teeth is removed.
Do also check none of the teeth are broken. Once you have completed this, remove the suit and hose it down both on the inside and the outside.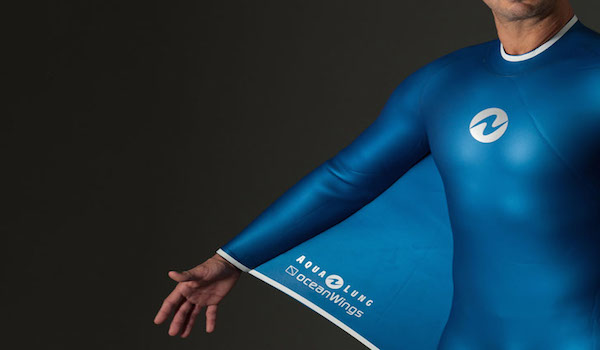 Check out this amazing video of the wingsuit in action
Before you dry it, you should check whether there is any damage in the suit, particularly around the seams.
If you do notice rips or tears, make sure you re-sew it, using polyester thread. You can also use wetsuit cement if the suit is ripped elsewhere.
It is now time to dry the suit, which should be done by turning it inside out first. Hang it on a fat hanger so that the shoulders do not become creased and keep it out of the sun.
Once the inside is dry, you need to repeat the procedure for the outside.
Once you have ascertained that your suit is properly dry, lubricate your zippers and put it back on a hanger. If you must store the suit in a way that doesn't involve hanging it up, make sure it is only loosely folded and that there are no items above or below it.
Give it some form with old, clean rags or newspapers. Do not ever lay anything heavy on top of your suit, as it may dent it permanently.
Finally, only store your suit in areas where the temperature doesn't fluctuate.
Article written by Rutger Thole who is an avid scuba diver and loves to travel, dive and write about scuba diving. Based in Amsterdam he runs bookyourdive.com and at least twice a year he plans a dive trip of the beaten track.
How do you maintain your wetsuit?
Let us know in the comments below
Feel free to contact us. We have multiple partners that offer dive packages + accommodation and scuba lessons.
Enjoyed this blogpost? Sign up for our free newsletter! and get our scuba blogs delivered in your inbox.
Feel free to check out our Scuba Dive partners on the map below for packages, training or guided trips: [rushkult_map]
This article is published by The Scuba Page, the online magazine for Scuba Dive lovers around the world. The Scuba Page is part of RUSHKULT : the online booking platform for adventure sports. Visit the RUSHKULT platform to book your next Scuba Dive training, guided trip and accommodation.