Are you ready to become a Rescue Diver? Once you are comfortable as a diver, able to dive down into the different types of dive sites with ease, you may want to consider becoming certified as a Rescue Diver. You will expand upon the knowledge you have already gained in previous scuba lessons, including the Open Water Diver and Advanced Open Water Diver certification courses.
When you have finished the rescue diver course you took a giant leap forward because you now know how to save lives in a scuba diving emergency.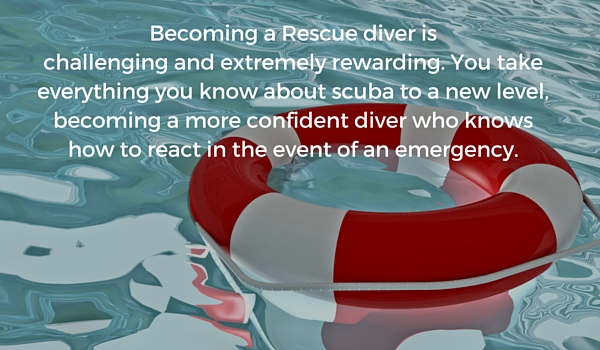 Becoming a Rescue Diver is often described as challenging but extremely rewarding once you have passed the requirements and become certified. You take everything that you already know to a whole new level, becoming an even more confident diver who knows how to react in the event of an emergency, whether you yourself are in danger or someone you are diving with is in need.
What You Will Learn during the course?
The Rescue Diver course will teach you many things, including the typical causes of diver stress and causes of emergency, how to recognize when and if a diver is in need of assistance and how to manage an emergency situation, dive rescue procedures, how to treat injuries with first aid supplies and rescue equipment, how to keep yourself safe, and in-water rescuing skills.
Some of the many other skills you will learn include:
How to tow a diver who has become too fatigued in the water
How to help a panicking diver
How to carry conscious and unconscious divers out of the water.
How and when to apply oxygen to a diver
You will learn not only how to rescue yourself if something were to go wrong while on a dive, but you will also know how to rescue a terrified or unresponsive diver as well. This information is invaluable and can really mean the difference between life and death in an emergency situation at a dive site anywhere in the world.
What You Will Do
You will be provided with learning materials, including booklets and DVDs, just as you received during the Open Water Diver and Advanced Open Water Diver certification courses. Then you will take what you learned into the water for real-life simulations of what to do in emergency situations.
You will practice rescue scenarios in closed waters, such as in pools, as well as in open water sites. In addition, you will learn how to prepare an emergency assistance plan with steps for managing an emergency at a dive site, which will help you know how to prepare for emergencies in advance in addition to responding to them when they occur.
Prerequisites to start the course
As with all other diving courses, you should be in good physical health. The Rescue Diver course is probably the most physically demanding, however, of all the diver courses available. For example, you will need to learn how to get unconscious divers out of the water, and this is a very challenging task.
Most dive trainers require that you be at least 12 years of age to take the Rescue Diver course. You must also hold an Advanced Open Water Diver certification before applying for this course. In addition, you must hold a certification in First Aid and CPR before signing up which will often be available from your dive school if you don't already have it.
What Gear Will Need to Start the Rescue Diver Course
You will need all of the scuba diving gear that you would typically use, including all the necessary accessories, such as a spare parts kit, catch bag, clips, lanyards, and gear markers. In addition, you will need to have a dive computer ready to use.
What are your thoughts about becoming a rescue diver? Should this be a mandatory course? Let us know in the comments below
Would you like to go Get Certified as a Rescue Diver? Feel free to contact us. We have multiple partners that would love to teach you.
This article is published by The Scuba Page, the online magazine for Scuba Dive lovers around the world. The Scuba Page is part of RUSHKULT: the online booking platform for adventure sports. Visit the RUSHKULT platform to book your next Scuba Dive training, guided trip and accommodation.