Are you an avid scuba diver? Do you own and iPhone? If so you'll be pleased to know that there are a whole host of apps available for scuba divers just like you. Some of them are completely free to use whilst others cost just a few dollars. Here we'll take a look at some of the best iPhone apps available to everyone who loved scuba.
Dive Log – $11.99
Dive Log may be one of the most expensive scuba diving apps on the market today but most divers whole heartedly agree that it is worth the price tag. Designed to work in the same way as a traditional log book, the Dive Log app enables users to log their dives whilst they are still at the dive site and whilst the dive is still fresh in their minds.
The app enables you to log your current co-ordinates through your GPS device and it can then be linked up to your desktop computer or laptop when you get home. Even the world's best dive computers aren't this good!
You can download this app from the Apple store here.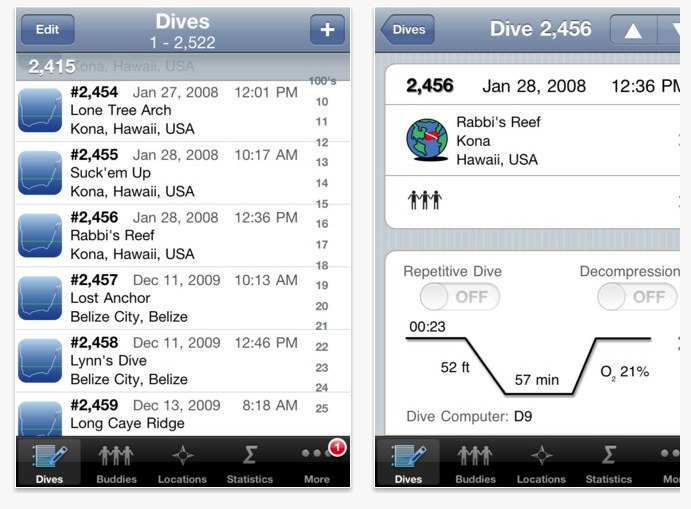 Dive Log Iphone AppPADI – Free
The PADI dive app enables users to log in and find any PADI dive centre in the world. You can either type in your current GPS co-ordinates, your zip code or the name of a city and the PADI app will show you exactly where to go to find a PADI dive school. Although this app hasn't received the best feedback, it is completely free to use so you might as well give it a go. It is incredibly simple to use and a great app to have in our opinion.
You can download this app from the Apple store here.
Dive Time – $3.99
Divetime.com hosts the biggest database of scuba diving schools and shops in the world so you can surely guess what their app does. The Dive Time app works in a similar way to the PADI app (it can either read your phone's GPS co-ordinates or you can enter a zip code or city and it will show you a list of the closest dive schools).
Unlike the PADI app, Dive Time shows dive schools that are members of other organisations such as SSI and BSAC so you can obtain more results.
Along with your results will be the addresses as contact information of each dive centre, detailed dive site information, photographs and reviews of the dive centre.
This is definitely one of the top apps around at the moment and you can download it from the Apple store here.
Scuba Exam – $3.99
Whether you are considering going scuba diving for the first time or are a seasoned veteran, the Scuba Exam app is a great little app to add to your iPhone. It is a well thought out application that helps people to stay up to date with their scuba theory and works as a great study aid when preparing to take one of the scuba certification exams.
And what's best is you can learn your theory on the bus, on the beach or anywhere else that you have a few minutes to spare.
At $3.99 we think this is a great buy and you can download it from the Apple store here.
We know there are a lot more scuba related (Iphone) apps out there.
Do you use a specific scuba related mobile app? Let us know in the comments below
This article is published by The Scuba Page, the online magazine for Scuba Dive lovers around the world. The Scuba Page is part of RUSHKULT: the online booking platform for adventure sports. Visit the RUSHKULT platform to book your next Scuba Dive training, guided trip and accommodation.