The fact that we are all going to die one day is not something that I like to think about at all. For me, it is such an unlikely thing, which I rarely consider my mortality, or even worse, that of my loved ones.
In the rare occasion, I think about the remote possibility of me going to die one far away day in the far away future; I have this romantic idea about just not returning from a dive, quietly slipping away into the nothingness, possibly accompanied by a dolphin (Think Jean-Marc Barr as Jacques Mayol in "The Big Blue"). So went the dream, before I came across this even better option!
Located about 3.25 miles off the coast of Key Biscayne in Florida you will find Neptune Memorial Reef which is truly an underwater world like no other. This underwater cemetery is a unique spot that you could make your final resting place one day.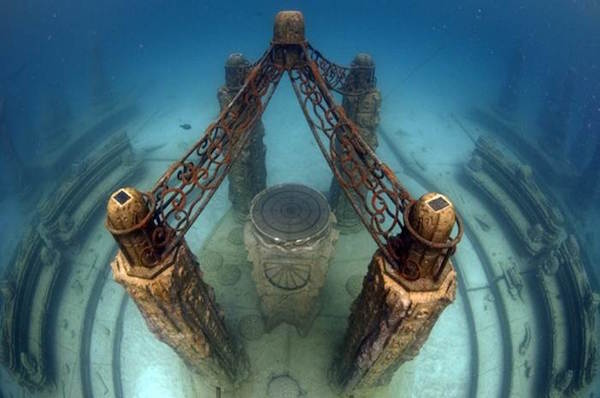 Besides an underwater graveyard The Neptune Memorial Reef is also an artificial reef system that will continue to flourish and provides a vital habitat for marine wildlife in the area.
Covering over 600,000 square feet, at a depth of 40 feet, it is also the largest artificial reef in the world and plans to expand the reef from half of an acre to 16 acres are already underway. The idea of being part of such a large living organism after my death gives me great pleasure!
Lets Dive Deeper into the History of Neptune Memorial Reef
The original plans for the site were to create a sort of "Lost City of Atlantis," but when costs got to be too high, developers came up with the idea of an underwater graveyard instead.
After a tedious process, the plans for Neptune Memorial Reef were approved by the EPA, DERM, NOAA, Florida Fish and Wildlife, and the Army Corps of Engineers in 2007.
Designed to withstand the toughest hurricanes and storms, the reef has begun to show more and more coral formations over the years since it was developed.
Though the site has been open to divers and boats, no fishing of any kind is allowed because it doubles as a haven for marine life within the reef and as an excellent unusual dive spot.
A Glimpse into Neptune Memorial Reef
Throughout the reef, memorial stones are placed in memory of those who have passed on, and the cremated remains are mixed with cement to form the various features of the reef system.
Gates, plaques, statues, benches, and pathways make the reef seem like a cemetery or memorial ground. This underwater cemetery is a new, improved option for those who would usually wish to be cremated and then have their ashes scattered at sea.
Would you like to dive into Neptune Memorial Reef before your time has come?
There are seven dive operators who can take you on a dive tour through and over the Memorial Reef. Would you like to book a dive? You can find their contact details here
Image via Neptune Memorial Reef
In addition to the manmade structures at the memorial site, Nature is taking root, slowly but surely developing into a massive coral reef system that will serve as a brand new haven to a variety of fish species and invertebrates. In addition to the sponges and soft corals that have been making their home at the site, divers have encountered:
Spotted Eagle Rays
Schools of Grunts
Snappers
Damselfish
Puffers
And other smaller tropical fish.
Also read: 5 of World's Strangest Dive Sites You Could Explore Tomorrow
Grave Options at Neptune Memorial Reef
Now, that would be the ideal resting place for me and probably a large number of my diving friends, and it is possible to get a place here.
Many options are available, of varying price ranges, for graves in the Neptune Memorial Reef. One may choose from a massive, and equally expensive, lion statue, to a much more subdued small memorial stone in the shape of a starfish. Other shapes can also be made, depending on your wishes.
To the cement shape, a plaque made of copper and bronze mix is also added, and this, much like a gravestone, states the person's name, date of birth and death, and epithet.
While some of you might think about this underwater cemetery as outrageous, I rather like the idea of spending time under water even after my death, surrounded by fish, as part of a large, coral reef helping with the protection of marine species, peacefully resting, while eagle rays cruise above. That even beats vanishing into the blue with dolphins!
I would for sure at least love to dive at this incredible site, if I ever get the chance!
What are your thoughts about Neptune Memorial Reef? Would you like your final resting place to be underwater? Let us know in the comments below
This article is written by Rutger and published by The Scuba Page, the online magazine for Scuba Dive lovers around the world. The Scuba Page is part of RUSHKULT: the online booking platform for adventure sports. Visit the RUSHKULT platform to book your next Scuba Dive training, guided trip and accommodation.