Dive The USAT Liberty in Bali | 5 Reasons Why You Should
Diving The USAT Liberty is for a good reason one of the most popular wreck dives in Bali. Continue reading to learn more about the compelling history of the SS USAT Liberty, as well as why she is a must do dive.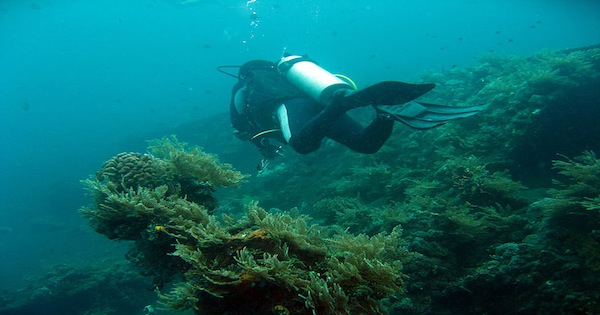 A diver scuba diving along the USAT Liberty wreck in Bali, Indonesia.
The History Behind the SS USAT Liberty
The USAT Liberty is also known as the Liberty Ship Wreck, USAT Liberty Glo, the USS Liberty, Hog Island Hull No. 517, and SS Scooba. She was a United States Army ship and was built in New Jersey in 1918.
The ship served during World War I, as well as during peacetime, and later again during World War II. She was torpedoed by a Japanese submarine in 1942 and, as a result, it was beached on the island of Bali.
The ship was first stripped by the American military and then later by locals before it just sat on the beach rusting underneath the hot sun that beat down on her daily. Today, she is one of the most popular wreck dives in Bali after a volcanic eruption in 1963 moved the ship off of the beach into the water.
We have multiple partners that offer Scuba Dive packages including accommodation, training and guided trips. Feel free to check out our listings:
Where to find the SS USAT Liberty Wreck in Bali?
To get to the dive site, head over to Tulamben, which is a small fishing village located on the northeast coast of Bali As she lies close to shore, you can get to the wreck from the beach. To avoid the crowds come early. Many dive operators in Bali will include 2 or 3 dives in this area in a dive safari. But she can be dived on a day trip too.
The wreck is found at a maximum depth of 30 meters, or 100 feet. The shallow area of the wreck, though, lies only about 4 meters, or 13 feet deep, making it easy to access even by snorkelers. Once in the water, you will see the ship is laying on its side on the sandy bottom, and you will see how she transformed since she sank into the water.
Diving the SS USAT Liberty
This wreck dive will certainly keep you busy, as the ship itself is an incredible 120 meters, or 394 feet, in length. It is covered in marine life that has transformed the ship's remains into an underwater haven. Here, you will find a variety of hard and soft corals, sea fans, nudibranchs, gorgonians, hydroids, anemones, and much more.
Bring your camera for some astounding macro photography, or take wide-angle shots of some of the many schools of tropical fish swimming past you, such as:
Big-eyed trevally
Jacks
Gobies
Lizardfish
Barracuda
And sweetlips, to name just a few of the many species that call this wreck home. Eels and giant clams are also abundant here, so keep an eye out for them.
When is The Best Time To Dive the SS USAT Liberty
Diving is possible here during any month of the year. Visibility usually averages at around 20 meters, or 66 feet, during the rainy season, it can drop to 10 and 15 meters, or 33 to 49 feet. The water is consistently warm and comfortable throughout the year, whether you go in January or June.
Also read: Why Scuba Diving Nusa Penida in Bali Should Be on Your Bucket List?
Who Can Dive the SS USAT Liberty?
All levels of divers can experience the breathtaking beauty of this wreck. The currents are gentle enough for the inexperienced, and there are some swim throughs that you can take if you are an advanced diver, and you know how to properly maintain your buoyancy.
Whether you are a beginner and are looking for your first wreck dive, or you are an experienced diver who is looking for the next exciting dive, this wreck is certainly one that will capture your attention.
[the_ad_group id="1251"]
This article is written by RUSHKULT, the online booking platform for Scuba Diving. Visit the RUSHKULT platform to book your next Scuba Dive training, guided trip, and accommodation.
[the_ad id="10253"]