5 reasons Why and When to Scuba Dive the Catalina Islands in Costa Rica
Scuba divers from all over the world come to Costa Rica to scuba dive the Catalina Islands. The Catalina Islands aka "the Cats" are, without a doubt, one of the most sought-after scuba dive locations in Costa Rica.
Considered a scuba diver's paradise, the 20 islands that make up the Catalina Islands of Costa Rica are surrounded by pristine water that is often described as being a breathtaking indigo color. The islands, as well as the waters that surround them, are home to an abundant array of marine animals, birds, and land animals. A trip to these islands, therefore, is unforgettable.
Once you understand the myriad marine species that call these waters home, you will understand exactly why divers from around the planet make it a point to put the Catalina Islands on their list of must-see dive sites. Read on and learn more about why scuba diving the Catalina Islands in Costa Rica is a mind-blowing experience.
When to Dive the Catalina Islands
You can scuba dive the Catalina Islands all year long, thanks to the tropical climate on land and the warm water temperatures throughout every season of the year. In fact, the water temperature ranges from 24 to 29 degrees Celsius or around 75 to 85 degrees Fahrenheit.
Visibility is also usually good throughout all the seasons of the year. It typically ranges anywhere from 6 to 23 meters, or 18 to 75 feet, so you will certainly be able to see plenty of marine life clearly, and also grab a lot of photographs if you bring your underwater camera with you on your trip.
Just keep in mind that, on occasion, the currents may be strong. If you are planning to scuba dive the Catalina Islands you should at least be advanced certified.
We have multiple partners in Costa Rica that offer Scuba Dive packages including accommodation, training, and guided trips. Feel free to check out our listings:
Scuba diving the Catalina Islands is famous for its Manta Ray encounters.
Although you can scuba dive the Catalina Islands all year round if you really want to increase your chances of being in the water with the highest number of rays, visit between the months of January and March.
These are the months during which the odds of being near giant manta rays, devil manta rays, bat rays, stingrays, spotted eagle rays, bullseye electric rays, and cow-nosed rays are highest.
Visibility is best between the months of September and March. This is also the best time of year to potentially encounter whale sharks, tiger sharks, killer whales, humpback whales, pilot whales, and spinner dolphins.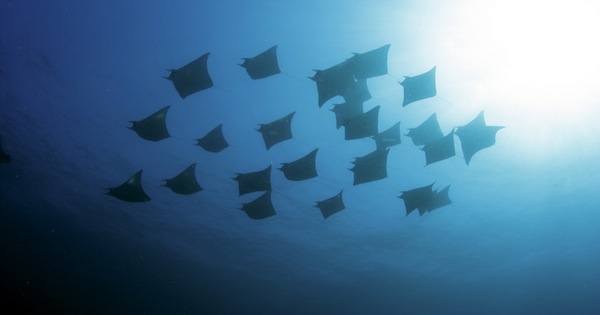 A shoal of Mobula rays as seen when scuba diving the Catalina Islands, Costa Rica. Photo Credit: nicoboxethai.
What You'll See While You Dive the Catalina Islands
Nature lovers who want to get up close and personal with a variety of marine creatures will absolutely love scuba diving in the waters surrounding the Catalina Islands. Schools of fish of various sizes are found living here, including barracudas, spiny scorpion fish, lemon-colored barberfish, king angelfish, and bright-striped Cortez angelfish.
A variety of rays are also abundant in these waters, including manta rays, stingrays, bat rays, bullseye rays, spotted rays, and mobular rays. It is not unusual to see schools of these incredible creatures gracefully swimming past you as you spend time in the water exploring the undersea world.
You may even find yourself looking up from the depths to see giant manta rays flying over you, with wingspans that range from 4 to 6 meters, or 14 to 20 feet across. When diving the Catalina Islands you should not miss a dive or two at Bat Islands where you can dive with the Bull Sharks between May and November.
Sea turtles, as well as sharks, are also common in the waters off the Catalina Islands. You may be lucky enough to encounter tiger sharks and white-tip reef sharks during your dive, so definitely be sure to bring your underwater camera with you. The photographs that you can take will be absolutely stunning and a testament to this incredible place.
[the_ad_group id="1250"]
Scuba Dive Sites of the Catalina Islands in Costa Rica
Some of the most popular dive sites surrounding the Catalina Islands include Big Cupcake, where you can swim alongside schools of angelfish, as well as Little Cupcake, where parrotfish are abundant. Dirty Rock is popular for its great visibility, whereas Two Hats is the go-to destination for incredible wall diving. Challenge yourself at Big Catalina, where white-tip reef sharks and giant manta rays are spotted.
[the_ad_group id="1251"]
How to Get to the Catalina Islands
The Catalina Islands are located between 3 and 24 kilometers off the northern coast of Costa Rica. Therefore, you have to first travel to Costa Rica. From there, you can get to the islands quite easily by boat from several locations, including Flamingo, Papagayo, Conchal, Playa del Coco, Playa Conchal, Tamarindo, and others that are located in the northern parts of Guanacaste Province.
This article is written by RUSHKULT, the online booking platform for Scuba Diving. Visit the RUSHKULT platform to book your next Scuba Dive training, guided trip, and accommodation.
[the_ad id="10253"]