When I was little, my parents would take us to the sea, where our favorite past time was rock-pooling. My brother and I would spend hours looking at the shallow pools in the tidal zone, "catching" sea stars and the unsuspecting sea cucumbers. We did have nets but never actually caught a fish or crab or anything quick, and of course, everything was duly returned to the pool we found it in, once we had proudly shown it to all family members and friends.
Nevertheless, we were fascinated by the underwater world and imagined all the wonders that could be found under the waters shiny surface. We fantasized about swimming with dolphins, which would then become our friends and fighting with sharks and giant octopi.
While I do not have a dolphin as a friend today, (which I think is a real pity!) and never was in the situation of actually having had to fight off a shark (not so much of a pity!), I dived with dolphins and swam with sharks.
For me, after years of spending in and around the water, the sea, and its inhabitants, however, big or small they might be, have lost nothing of their fascination.
The original rock-pooling dream might have changed its focus a bit, but is essentially still the same! I still dream about seeing the "big stuff", and have managed to cross quite a few of these beasts off my bucket list, but one dream remains: Diving in an untouched, pristine marine habitat, that had almost zero exposure to direct human influence. The underwater world, as it should be, if you will. But where to find it in this day and age, where the human influence can be felt everywhere?
The answer is, of course, marine reserves and marine parks, which both strive to protect the underwater world. But what is the difference between these two?
What is the Difference between Marine Reserves and Marine Parks?
According to Wikipedia, a marine park is a park consisting of an area of sea (or lake) sometimes protected for recreational use, but more often set aside to preserve a particular habitat and ensure the ecosystem is sustained for the organisms that exist there. Think "watery" national park.
While a marine reserve is defined as a "type of marine protected area that has legal protection against fishing or development. Benefits include increases in the biodiversity, biomass, body size and reproductive potential of fish and other species within their boundaries."
Recognizing the difference between marine reserves and marine parks is important. Usually, a marine reserve offers a higher rate of protection for the designated area and its species.
While in marine parks it is allowed to visit the underwater world be it snorkeling, diving or even with glass-bottom boats or small submarines, marine reserves are not accessible to humans at all, unless it is for scientific reasons. That means no recreational use whatsoever: no diving, no snorkeling, no water sports, no sailing, no nothing.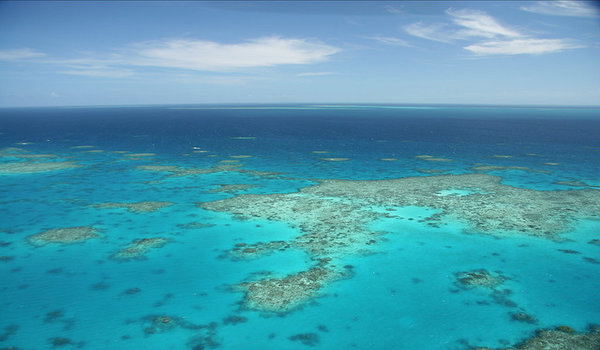 One of the biggest marine parks in the world is Australia's Great Barrier Reef, but also here, the negative influence of human activities can be felt, and the reef is facing the dire consequences. To restore at least a part of its former glory, some areas have now been declared marine reserves rather than marine parks, with no access to visitors.
An area is given the marine reserve status for five years, after which a review will take place to determine whether it needs to retain that status or whether the population of the protected species has recovered enough so that it can be "downgraded" to a marine park.
Famous Marine Reserves and Parks
There are some very prominent marine reserves and parks in the world that you should check out if you get the chance.
These includes:
The Great Barrier Reef Marine Park. This is the world's largest marine park and part of it is also a marine reserve.
The Australian Whale Sanctuary is a full-fledged marine reserve.
The probably best-known marine reserve in the world, the Galapagos Marine reserve.
Various different smaller areas in Belize form the Belize Marine reserves
Chagos Marine Reserve. This is the largest marine reserve in the world and is classed as "no take".
The Chagos Marine Reserve
The Chagos Archipelago is a group of seven atolls that share about sixty beautiful, tropical islands between them.
It is located in the Indian Ocean, just south of the Maldives.
Their combined protected area stretches out over 544,000 square kilometers (210,000 square miles).
The Chagos have the world's largest coral atoll, and more than half of all the well-preserved reefs that are found in the Indian Ocean can be found here. Thanks to their remoteness and a good portion of luck, they remain virtually unaffected by any environmental disruptions and climate change and these atolls are now classed as the world's largest marine reserve.
The size of the Chagos is effectively bigger than or California.
However, there has been a lot of discussion about this area. Since it is a marine reserve, it is impossible for anything to be constructed. A Wikileaks document has suggested that the area has only been designated as a marine reserve to prevent the native population from the Chagos – the Chagossians – to return to their native home.
Because it is a protected area, the Chagos is one of only a few areas in the world where you can witness what happens without any human impact. This makes it fascinating for scientists trying to determine the effect humans have on nature, as well as being able to see developments in marine life and its response to climate change.
The Great Barrier Reef
The Great Barrier Reef is the world's largest coral reef system composed of over 2,900 individual reefs and 900 islands stretching for over 2,300 kilometers over an area of approximately 344,400 sq km and is located in the Coral Sea, off the coast of Queensland, Australia. It is also a diver's paradise!
The Great Barrier Reef can be seen from outer space and is the world's biggest single structure made by living organisms. This reef structure is composed of and built by billions of tiny organisms, known as coral polyps. It supports a wide diversity of life and was selected as a World Heritage Site in 1981. CNN labeled it one of the seven natural wonders of the world.
Also read: 10 Mind-Blowing Facts About the Great Barrier Reef
A large part of the reef is protected by the Great Barrier Reef Marine Park, which helps to limit the impact of human use, such as fishing and tourism. Other environmental pressures on the reef and its ecosystem include runoff, climate change accompanied by mass coral bleaching, and cyclic population outbreaks of the crown-of-thorns starfish. This is why some parts of it have been made into a marine reserve and an off-limits for divers. Other parts, however, can be dived freely, and a wide range of dive centers and liveaboards offer their services to discover the planets largest coral structure, well, of course, one dive site at a time!
If you are just a beginner or even planning to take the Open Water Diver course, you might consider Cairns as your destination as it offers quite comfortable diving. If you want to stay land-based and return home in the evenings, you could consider a day trip off Port Douglas and visit the Cod hole with its very friendly population of Giant Groupers.
For the more adventurous divers amongst you, get your kicks during a liveaboard diving legendary sites like the Ribbon Reef or the Osprey Reef, with its famous dive site North Horn, featuring a resident population of sharks, including Whitetip Reef Sharks, Silvertip Sharks or the elusive Tiger Shark, or discover and explore the Yongala Wreck for a chance to spot a bull shark.
Also read: What You Need to Know Before You Go Liveaboard Diving the Great Barrier Reef?
Manta rays and the occasional dugongs can also be seen during the dives along the Osprey Reef. Diving at its best!
The Galapagos Nature Reserve
The Galápagos Marine Reserve (GMR) lies a thousand kilometers off the coast of Ecuador and covers an area of around 133,000 km2. The Galápagos Islands and the surrounding waters represent one of the world's most unusual and unique ecosystems and are rich areas of biodiversity. The Galápagos Marine Reserve is the largest marine reserve in a developing country and the second largest reserve in the world and has been granted UNESCO World Heritage Status.
Also read: Dive into the new Galapagos Marine Sanctuary of 15,000 sq miles
It is of unique biological value and represents an eco-system virtually unaffected by humans, but luckily it has been relatively open to divers, and a small range of select liveaboard dive operations will offer trips to legendary dive sites like Darwin, Wolf and Cabo Marshall, where all your diving dreams will come true! Large schools of hammerheads, a never before experienced quantity of fish (literally thousands on each dive), whale sharks and manta rays will make for a trip of a lifetime!
Australian Whale Sanctuary
The Australian Whale Sanctuary was established in 1999 to protect dolphins and whales from hunting. It comprises the area 200 nautical miles (370 km) surrounding the continent of Australia and its external dependencies such as Christmas Island (in the Indian Ocean), Cocos (Keeling) Island, Norfolk Island, Heard Island and Macdonald Island.
It also includes Australian Antarctic Territory which is only recognized by the United Kingdom, New Zealand, France and Norway. For us as underwater enthusiasts, this offers great opportunities to watch or even snorkel with whales and dolphins.
One good spot to be is Western Australia, or more specifically the Ningaloo Marine Park, where humpback whales migrate from their breeding grounds, in summer to their feeding grounds. Best time to visit would be from June to November, for a chance to spot not only humpback whales but if you are lucky also orca, minke, and blue whales.
Belize Marine Reserves
The majority of Belize's marine reserves contribute to the conservation of Belize's Barrier Reef, which provides a protective shelter for pristine atolls, seagrass meadows, and abundant marine life. The preservation of the Barrier Reef system has been recognized as a global interest through the collective designation of seven protected areas, including four of the following marine reserves, as a World Heritage Site.
There are currently eight marine reserves: Bacalar Chico, Caye Caulker, Gladden Spit and Silk Cayes, Glover's Reef, Hol Chan, Port Honduras, Sapodilla Cayes and South Water Caye.
Read more about the Marine reserves in Belize
Why Are Marine Reserves Important?
There are many reasons why marine reserves are so important. Firstly, of course, it allows nature to take its course once again, providing a safety area for animals of different species to go to. Secondly, it provides scientists with an excellent opportunity to determine how much an effect we as humans have on marine life.
An area that is completely untouched should, if the rumors are right, be completely thriving, whereas other comparable areas where humans are allowed to dive, sail and fish should be starting to die.
For us divers the reefs in and around these zones are of very special interest, since they generally harbor more fish, special species, not or rarely found anywhere else or large populations of marine animals, not easy to find, so if you do have a chance to dive any of these beauties, do not hesitate to do so! Big emotions are guaranteed!
This article is written by Rutger and published by The Scuba Page, the online magazine for Scuba Dive lovers around the world. The Scuba Page is part of RUSHKULT: the online booking platform for adventure sports. Visit the RUSHKULT platform to book your next Scuba Dive training, guided trip and accommodation.