Before I dive deeper in where and when in the world you should go diving or snorkeling with whale sharks you should know a bit more about these amazing animals.
Is the whale shark a shark?
Yes, the Whale shark is a shark thus fish. and not a whale, as their name might imply. They are sometimes known as the gentle giants of the sea or Rhincodon typus and are a must-see for every scuba diver, and very much on top of the bucket list for most. They are not mammals like whales but are actual carnivorous fish, the largest in the world.
How big do Whale sharks grow and what do they eat?
A whale shark can grow to around 40 feet (12 meters) in length, the largest recorded being 41.5 feet (12.65 meters) and can weigh a massive 21 tons (19,000kg) or more. As a comparison, that's bigger than a school bus. And that is probably the reason why is it called a whale shark.
Despite their size, they feed on the smallest of sea creatures, plankton. Scientists discovered that they also sometimes do not shun bigger morsels, but divers and snorkelers have nothing to worry about.
Whale sharks are filter feeders. When they come up to the surface to eat, they open their full mouths and suck in hundreds of liters of water to filter out the plankton. , masters of their environment.
Are Whale sharks harmful to humans?
No whale sharks are not harmful to humans. It is not dangerous to dive or snorkel with Whale sharks. Whale sharks move slowly and calmly through the water seemingly oblivious to the goings on around them. This makes them a joy to snorkel or dive with, and you have a good chance of getting up close, but not too close, to enjoy their majesty.
They move slowly enough to keep up with them, for a while at least, but remember the wildlife protocols and don't get too close, do not disturb them or try to touch them.
Also read: 9 Random But Interesting Facts & Figures about Whale Sharks
How to spot the whale shark from the surface?
Look for clues when you are in whale shark territory. The dive guides and boat captains will know what to watch out for, but you can join in by looking for seabirds circling above a particular spot of open water.
Keep an eye on the surface and look for patches of water that look like it is boiling. This is where the fish, usually tuna are jumping and feeding in one area. The whale sharks will often be feeding there too.
If you have very keen eyesight, you may be able to see the shadow of the whale shark under the water, gray with white spots, and probably bigger than anything else.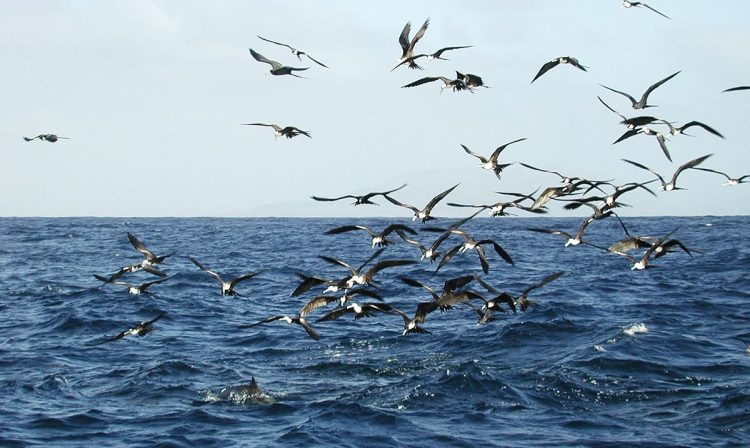 What are the best places to snorkeling and dive with whale sharks?
Divers travel from around the globe to get to dive with these beauties, being especially attracted to their regular feeding spots, and diving or snorkeling with whale sharks is on almost every diver's bucket list.
There are many whale shark 'hotspots' around the world where you can dive or snorkel with these gentle giants. Whale sharks are known to follow the spawning patterns or fish species like tuna and groupers.
You will also find whale sharks where there is an abundance of krill and plankton in the water. Whale sharks come together to feed in different areas in the world or travel along the same migration routes each year.
Some of the most famous destinations for swimming and diving with whale sharks are:
Utila, Honduras
Belize
Mexico, Isla Mujeres
Thailand
Galapagos Islands
Egypt
Philippines
Costa Rica
Seychelles
Mozambique
Ningaloo Reef
Diving with whale sharks in: Utila, Honduras
There is no real whale shark season in Utila. Utila, is one of the few year-round whale shark dive spots. This because there is a year-round food supply thanks to the ocean currents. The whale sharks in this area are usually between 15 to 30 feet (5 to 10 meters) in length. The North of the island is considered the best place to see whale sharks.
Swim with whale sharks in Mexico: Isla Mujeres, Mexico,
In Isla Mujeres, Mexico you can swim and snorkel with whale sharks in the right season as diving with the Whale Sharks is not permitted.
Whale shark season in Mexico is on between July and August with the Whale Shark Festival at Isla Mujers taking place in July.
Isla Mujeres is an island just off Cancun, with white sandy beaches, sparklingly clear waters and some great reefs for snorkeling and diving. Isla Mujeres also has an underwater sculpture museum, which is an ongoing project opened in 2010 and which will eventually consist of 12 individual galleries containing over 1,300 habitats for the various forms of sea life in the area.
Mexico takes its marine life conservation very seriously and as such the whale shark snorkeling trips around Isla Mujeres are well regulated and enforced with only licensed boats and guides allowed to operate in the area. These rules eventually create a better experience for the snorkelers while preserving the ecology of the area.
Diving with whale sharks in: Thailand
Thailand has some fabulous dive sites and three of them make a list of best places to dive with whale sharks.
Chumphon Pinnacle
Hin Daeng
Richelieu Rock
Chumphon Pinnacle is a large granite pinnacle with scattered large boulders and is one of the sites dived out of Koh Tao Island. It's considered to be one of the best dive locations in the area, not only because of its usually clear water and excellent visibility but also because of the vast variety of sea life living there.
It's not unusual to see whale sharks hanging around for a while and even investigating the new critters on the block, the scuba divers. There can be current, and the site gets deep, so it's best dived by divers with some experience and at least PADI Advanced Open Water or equivalent.
The whale shark season in Thailand is said to be between March and October, but as always the whale sharks don't know this and have been spotted all year round by dive guides in the area.
Hin Daeng and Hin Muang are two more of Thailand's excellent dive sites, with the currents bringing a plentiful supply of food for the magnificent soft corals and various fish species.
Hin Daeng and Hin Muang are both good places to potentially dive with whale sharks in Thailand and the chances of spotting one is higher because of the clear water around the pinnacles. Access to these sites is usually from Koh Lanta, although many prefer to dive them as part of a safari on a liveaboard.
Richelieu Rock a dive site part of the Similan Islands within the Surin National Park can be visited from 15th October to 15th May. It is only accessible on a liveaboard, but of course, this means you can do several dives and increase your chances of diving with a whale shark or manta ray, both of which are known to visit.
Diving with whale sharks in: The Galapagos Islands
If you want to have a good chance to dive with whale sharks in Galapagos you should be one a liveaboard. During Whale shark season in Galapagos, whale sharks pass through the outer islands Wolf and Darwin from May to December, but some stay year-round to feast on the abundance of plankton and krill brought by the three converging ocean currents.
Also read: When is the best time to dive with Whale Sharks in Galapagos?
There is always a small chance you will encounter a whale shark on a dive site in the inner islands which are accessible on day trips, but it is more likely you will catch lighting in a bottle.
Diving with whale sharks in: The Red Sea, Egypt
While the Red Sea usually gets few sightings during the year, 2016 has been a particularly good for swimming, snorkeling, and diving with whale sharks in the Red Sea.
Hurghada is visited every year but this year several whale sharks have decided to stay longer, even into October, and have been spotted in most of the popular dive sites and even swimming quite happily along the coastline, being spotted from the many house reefs. There have been sightings almost every month from March onwards, although the primary season is said to be late May to July.
Good places for diving with whale sharks in Egypt are:
Marsa Alam
El Quisier
Sharm el Sheik
Dahab
Diving with whale sharks in: The Philippines
The Philippines are blessed with year-round warm weather, and this goes for the water with an average of between 24 and 27 degrees and up to a blissful 29 degrees May to July. This makes for some great diving with visibility usually between 15 and 30 meters.
There are several sites for swimming with whale sharks in the Philippines, the best being Donsol Bay where you are almost guaranteed to see at least one whale shark.
The Donsol whale sharks are well protected as the area they live in is a designated snorkeling only area. Whale sharks swim close to the surface, so a snorkeler is easily able to get up close and personal. Diving with Whale Sharks in the Donsol area is possible at Manta Bowl and Ticao Pass.
Where else can you find whale sharks the Philippines?
Tubataha
Ando, Bohol
Honda Bay, Palawan
Dive with whale sharks in: Belize
During whale shark season In Belize from March to June and around the time of the full moon, Whale sharks come to Gladden Spit to feed on the spawning groupers.
Along with whale sharks, you can expect to see a lot of other exotic fish, and you may even be lucky enough to dive with dolphins o hammerhead, bull or Caribbean reef sharks and maybe even a manta or two which has been known to pass by.
also read: 8 Reasons Why You Should Plan a Spectacular Dive Trip to Belize
If you would like dive with whale sharks in Belize, you need to book your spot on a dive boat on time because there is a limited amount of dive operators allowed in the marine protected area.
Dive with whale sharks in: Costa Rica, Cocos Island
While diving on Cocos Island, off the coast of Costa Rica, is fantastic all year round, the whale shark season coincides with the hammerhead and manta season from June to September, when the waters are full of plankton. To book your liveaboard to Cocos Island, make sure to be a year or so early since most operators are booked out quite a long time in advance and have extensive waiting lists! But this destination is worth the wait.
Dive with whale sharks in: The Seychelles
The best time of the year to dive and snorkel with whale sharks is during the Seychelles whale shark season from October to April. In the Seychelles a new project of ecotourism has been implemented, to make it easier spot these gentle giants.
The first encounter takes place by microlight airplane and later you will be able to snorkel with the whale sharks accompanied by a monitoring team of the Seychelles Marine Conservation Society. This sort of ecotourism benefits both the local economy as well as the conservation of the whale shark.
Dive with whale sharks in: Mozambique, Tofo
Tofo in Mozambique is located on one of the areas with the largest population of whale sharks on the planet. While it is possible to encounter whale sharks in this area all year round, your chances of a breathtaking dive with one of these amazing creatures are particularly high during the summer months from October to April.
Diving With Whale Sharks – Code of Conduct
Because whale sharks are a protected species and because divers need to be actively involved in conservation, when diving with whale sharks, you are expected to stick to a code of conduct.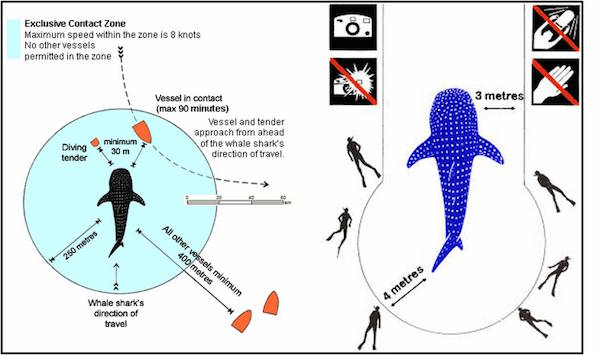 Firstly, it is important to remember that while the experience is rewarding and breathtaking for you as a human being, the most important thing is the protection of the whale shark and not the enjoyment of the diver.
Whale sharks can become agitated if they perceive aggressive behavior, including touching and chasing. It is also important to remember that the whale shark is harmless, but due to its enormous size, it is important to be careful around it, particularly near the tail.
It is vital to follow any diving regulations set by the local area as well as the diving school. Of course, a diver also must follow all the behaviors as set by their training agencies and conservation organizations.
The code of conduct of diving with Whale Sharks includes:
To not try to ride, chase or touch any whale sharks
To not restrict the movements of the whale sharks in any way
To be at least three meters away from the whale sharks at all times
To not use flash photography
To not use any diving equipment that is motorized
Diving with whale sharks is an experience you are not likely to ever forget. The beauty of these gentle giants is mesmerizing, and the fact that you can get so close to them is amazing. But do remember at all times that they are a protected species and that the code of conduct must be followed for your protection as well as that of the shark.
Whale Shark Photo-identification Library
This Library has the biggest collection of whale shark patterns photographed in the world. Just like a zebra, every whale shark has its unique pattern. Because everybody can add photos of patterns to the database, scientists can match the different sightings of whale sharks all over the world. The (BIG) data in this database gives scientists a unique insight of how whale sharks migrate and where they feed.
How can you help protect the Whale Shark?
But of course, like so many others, also this amazing species is on the verge of extinction and needs our help! So that future generations can still marvel at this incredible, gentle and incredibly impressive fish. Next time you encounter a Whale shark, remember you could help to save this species. Make some close-up pictures of its pattern and send them to the database
Did you ever have an encounter with a Whaleshark? If so feel free to share your adventure with us.
This article is published by The Scuba Page, the online magazine for Scuba Dive lovers around the world. The Scuba Page is part of RUSHKULT: the online booking platform for adventure sports. Visit the RUSHKULT platform to book your next Scuba Dive training, guided trip and accommodation.