Scuba Dive Galapagos | 5 Important Things You Need to Know
A world of wonder for scuba divers
Scuba diving Galapagos is on almost every divers bucket list. It is where Charles Darwin came up with his theory of evolution, and where innumerable mammals, reptiles, and birds thrive. Located off the western coast of Ecuador in the Pacific Ocean, the Galapagos Islands are a national park and marine reserve.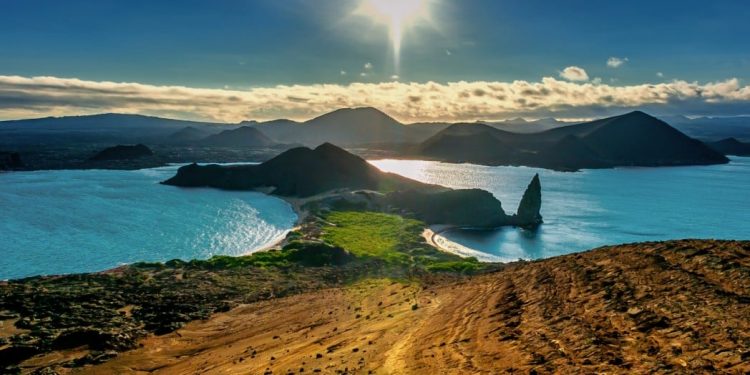 A world of wonder
Little has changed in these islands since Charles Darwin came up with his theory of evolution. Countless mammals, reptiles, and birds still thrive. Marine mammals are friendly here, with sea lions coming close to you to say hello. The waters surrounding the Galapagos Islands are a world of wonder for scuba divers from around the globe.
Whether you are looking to explore Galapagos from a liveaboard or with a land-based dive operator a trip to The Galapagos Islands will be an amazing experience and a true adventure because these remote islands in the Pacific are one of the most pristine areas left to dive on the planet.
Interested in diving into the waters of Galapagos? Continue reading to learn all you need to know to plan a scuba trip of a lifetime to Galapagos.
[the_ad_group id="1249"]
1. Galapagos is an Archipelago
Only a few of the islands listed have accommodations for visitors and those are generally in what is called the central area. Many of the other islands are visited only by liveaboards. Whether you are booking a liveaboard scuba trip or a land-based dive trip, The Galapagos Islands are, without a doubt, one of the most pristine areas left to scuba dive on the planet.
The 17 main Islands that make up the Archipelago are:
Bartolomé
Darwin
Española
Fernandina
Floreana
Genovesa
Isabela
Marchena
North Seymour Island
Pinzón Island
PintaIsland
San Cristóbal Island
Santa Cruz Island
Santa Fe Island
Santiago Island
South Seymour
Wolf Island
We have multiple partners in Galapagos that offer Scuba Dive packages including accommodation, training, and guided trips. Feel free to check out our listings:
[the_ad_group id="1250"]
2. When is the best time to dive Galapagos?
Dive the Galapagos Islands year round, but the water temperatures vary depending on the time of year, the dive site you choose and the depths you dive.
September through November
Surface temperatures range from 18-30 degrees Celsius, or 64-86 degrees Fahrenheit, with September through November being the coldest months and February through April offering the warmest temperatures.
In terms of when you should book your Galapagos dive trip, you can expect colder water between September through November. Many divers prefer to explore the underwater world of Galapagos between June and September. In terms of air temperatures, the cooler season in the Galapagos runs from June through December, when the conditions are also drier.
January through May
January through May is the warmer, wetter season. From January through May, water temperatures average around 24 to 28 degrees Celsius, or 75-82 degrees Fahrenheit.
June through December
From June through December, you can expect water temperatures to be around 17-20 degrees Celsius, or 62-68 degrees Fahrenheit.
When diving in Galapagos, expect medium to strong currents, and this is why experienced divers, or at the very least, mid-level scuba divers should explore these waters.
3. Who should dive Galapagos?
Typically, diving the Galapagos archipelago is more appropriate for advanced divers, those who feel comfortable in deeper waters with varying currents and conditions. The Galapagos Islands offer drift dives, deep dives, reef dives, and, of course, the famous hammerhead shark dives.
Many sites throughout the Galapagos experience colder water, strong currents, surges, and low visibility, and often beginners are not ready to deal with these conditions yet. Unexpected currents, including dangerous downdrafts, do occur, so you need to know how to handle such a situation safely.
It is also not unusual for divers to hold onto rocks preventing of being swept away by the strong currents. In general, visibility can range anywhere from 10 to 21 meters, or 30 to 70 feet. However, this visibility can be worse if the conditions are rougher than normal.
Open Water divers (OWD) and those looking to learn to dive in Galapagos are not totally overlooked. There are many dive sites around the central islands that are perfectly suitable for beginners and training.
However, do not expect to dive the more advanced dive sites where the largest pelagic animals can be found. You will still be able to dive with many shark species, turtles, sea lions and visit dive sites with abundant marine life.
Doing your open water diver course in Galapagos is awesome, and I cannot think of a more exciting destination to learn to dive.
4. How to get to Galapagos?
To get to the Galapagos Islands, you will need to travel to Ecuador. Once you are in Ecuador, you can book a flight from either Quito or Guayaquil to Baltra Island or San Cristobal on Galapagos.
There are three daily flights per day from Guayaquil and Quito to Baltra and San Cristobal. Flights take approximately 3 hours. Expect to pay $300 to $500 USD per person for a round-way ticket depending on the time of year you fly. While planning your visit and your flights, remember the 24-hour fly rule after diving.
5. What you can expect to see when diving Galapagos
Because the Galapagos Islands are influenced by deep currents and are a part of a marine reserve, you are guaranteed to see an abundance of marine life. The animals that live here have not evolved with a sense of fear for humans, so when you are in the water with them, you are in their territory, but they do not mind at all. In fact, you will find that most of the marine life in these waters are surprisingly friendly and curious.
You may be able to catch a glimpse of one of the unique marine iguanas that swim underwater or spot some yellow-bellied sea snakes. Sea lions and dolphins are playful while huge sea turtles glide by with ease.
28 Shark Species
There are 28 different shark species that call these waters home. You may encounter:
Blacktip sharks
White-tip reef sharks
Scalloped hammerhead sharks
Galapagos sharks
The massive yet gentle Whale Sharks (depending on the season)
Rays are also a common sight here, especially eagle rays and if you are lucky you run into a manta ray or even a school of Mobula rays.
Although Hammerhead sharks can be seen in all dive sites of Galapagos the best place to see the famous schools of hundreds of Hammers is at the remote Islands of Wolf and Darwin.
These Islands can only be visited and dived from a liveaboard though and should only be dived by experienced and advanced divers.
A scuba divers dream! Diving with hammerheads in the Galapagos Islands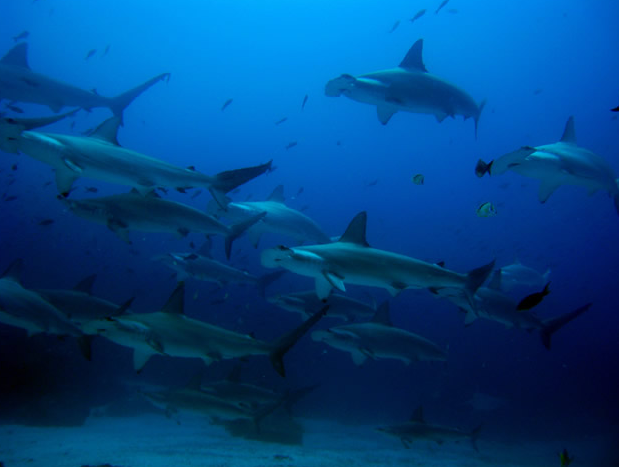 Also read: When you should visit Galapagos to dive with Hammerhead Sharks?
More fish species
More fish species of all shapes, colors, and sizes than you can imagine are abundant here. Surround yourself by massive schools of fish, thanks to the hundreds of species drawn to the area by its various currents. Commonly seen species include:
Barracuda
Groupers
Water jacks
Snappers
Grunts
Yellowfin Tuna
Other species
Other species seen in the area include:
The bloody frogfish
Red-lipped batfish (only in Galapagos!)
Rainbow basslet
Galapagos clingfish
Rock mover wrasse
And even the Pacific seahorse, to name a very small fraction of the different types of fish that can be found in these water. See a variety of crabs, starfish, and a host of invertebrates during any dive trip here.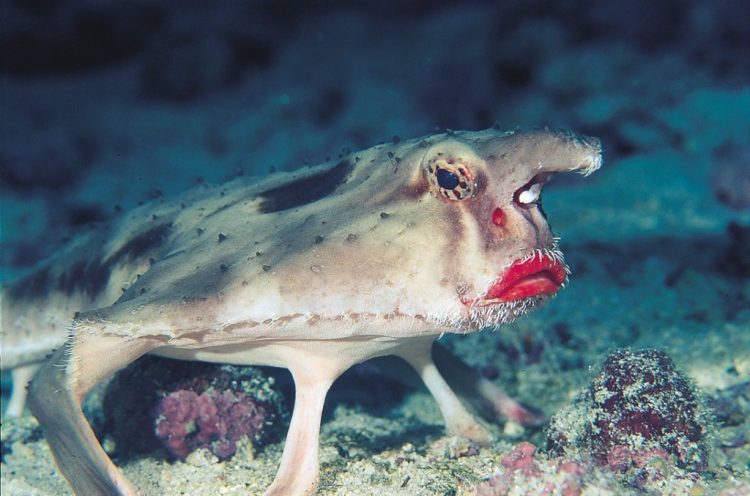 The awesome Red-lipped batfish
Key takeaways about scuba diving Galapagos
The Galapagos Islands are a remote Island group part of Ecuador. You reach the islands by plane from Quito or Guayaquil
Scuba diving the Galapagos Islands can be done year round but most people prefer to travel between June and September because between September through November the waters are colder.
Diving Galapagos can be done by novice divers, but Galapagos is known as an advanced dive destination because of the sweeping currents and often colder and deeper waters. Novice divers will stick to the more shallow sheltered dive sites.
Galapagos is a true shark dive destination and sharks can often be seen on every dive. The famous scenes of hundreds of schooling hammerheads can normally only be seen at the remote islands of Darwin and Wolf, which are only accessible by liveaboard.
Would you like to explore the entire globe instead of just the Galapagos islands? Feel free to check out our Scuba Dive partners anywhere in the world for packages, training or guided trips:
This article is written by Rutger and published by The Scuba Page, the online magazine for Scuba Dive lovers around the world. The Scuba Page is part of RUSHKULT: the online booking platform for adventure sports. Visit the RUSHKULT platform to book your next Scuba Dive training, guided trip, and accommodation.
[the_ad_group id="1252"]